Vitacid Cream
Entah kenapa sejak bulan puasa kemarin dan waktu pulang ke Jember muka yang tadinya sudah mulai bersih dari jerawat tiba-tiba muncul jerawat gede-gede dan yang paling menyebalkan adalah kulit saya merah dan gatal sekali . Pokoknya bikin malu deh... Udah bingung dan stress sama muka sendiri belum lagi punggung yang juga jerawatan kemana-mana terus adeku yang kebetulan sedang mengambil spesialis kulit di FK UNAIR kasih tau soal krim Vitacid ini. Dia dapet info soal krim ini dari senior dia, berhubung jerawat sudah mulai banyak dan besar-besar boleh lah dicoba. Malamnya kita ke apotik buat beli krim Vitacid dengan kadar 0,025% Retinoic Acid, begitu sampai di rumah langsung cuci muka dan pakai krim ini tipis-tipis di wajah dan leher.
Setelah beberapa hari masih belum terasa perubahannya cuma yang menyebalkan adalah krim ini membuat kulit saya sangat kering dan bagian yang ada jerawatnya terkelupas kemana-kemana. Begitu sampai di Jogja lagi saya tetep meneruskan penggunaan krim ini dan entah kenapa Break-Out jerawat dimana-mana!!! Sumpah tempat yang tadinya tidak ada jerawat malah muncul di pipi, pelipis, hidung, dagu, dahi, dekat alis sampai dekat mata, malah di sekitar hair line juga muncul. MAKIN STRESS!!
Heran lah diri ini katanya obat jerawat?? Kok malah makin menjadi-jadi? Tidak cocok apa gimana? Cari-cari info ternyata memang krim ini menimbulkan efek purging, jadi jerawat-jerawat dan komedo yang ada di dalam kulit akan muncul semua. Yah hitung-hitung melatih kesabaran ya, setelah minggu ke-4 dan krim tinggal 1/4 tube kesabaran saya sudah menipis dan akhirnya menaikkan dosis menjadi 0,05%. Setelah 2 malam saya memakai krim ini, hari ketiga pada paginya jerawatnya sudah kempes!!
Memang masih jerawat baru tapi jumlahnya jauh lebih lumayan dibanding sebelumnya, jerawat yang ada di leher juga sekarang sudah lebih bersih dan kering. Senangnyaa..... Untuk lebih mantap saya pun beli juga krim vitacid dengan kadar 0,1% untuk jerawat-jerawat yang baru muncul. Hasilnya wow!! Jerawatnya cepat kempes!! Sekarang sudah hari ketujuh saya menggunakan kombinasi ini dan jerawat masih lumayan purging sedikit-sedikit tapi tidak seperti sebelumnya yang sampai lebih dari sepuluh jerawat dalam semalam, paling cuma 2-3 jerawat aja.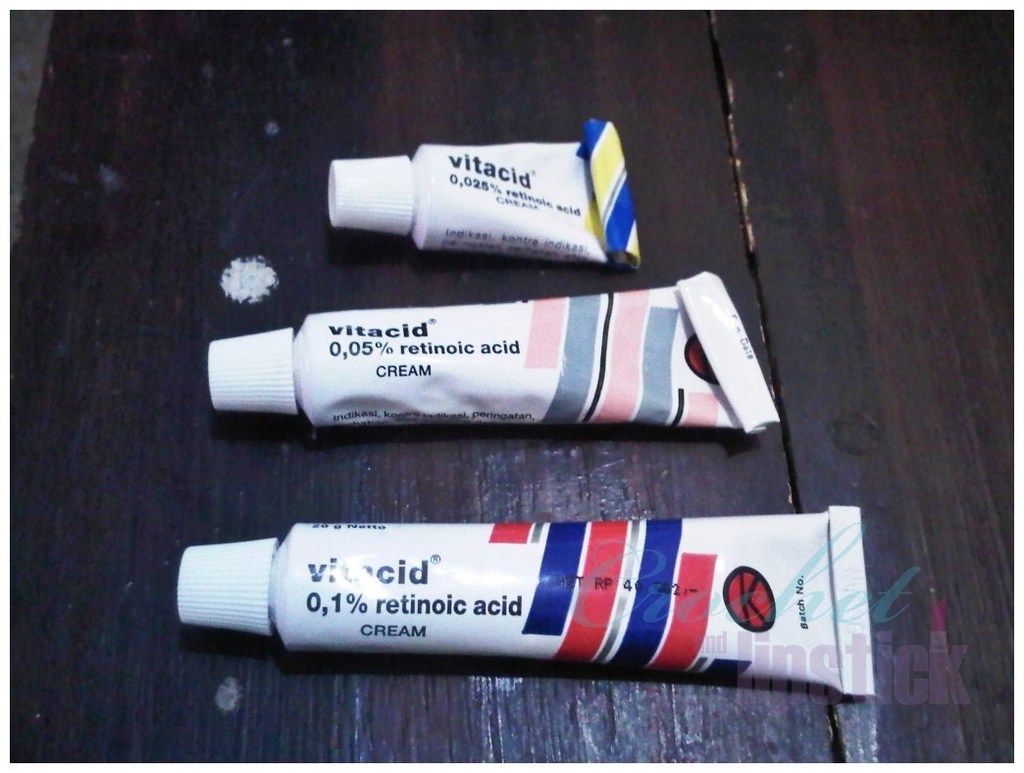 Likes:
- harga terjangkau
- multi-fungsi! dari anti kerut, anti jerawat, anti komedo dan mencerahkan
Dislikes:
- menimbulkan purging
- hati-hati dengan dosisnya karena dapat membuat kulit iritasi
Where to Buy?
Apotik (Kimia Farma, Century, etc)
EMC (Egyptian Magic Cream)
Karena krim Vitacid bikin mmebuat wajah saya kering dan terkelupas kemana-mana, saya mencari pelembap yang dapat membantu mengurangi iritasi dan kekeringan tersebut. Pedih banget cyiinn.. Pelembap yang biasanya saya pakai tidak mempan melawan keganasan dari si Vitacid ini. Iseng-iseng saya browsing dan ketemu sama yang namanya EMC atau Egyptian Magic Cream. Sudah lama memang saya mendengar kehebatan produk yang satu ini tapi belum yakin juga. Ya sudah nekat saja beli sekalian yang ukuran full size seharga 300 ribuan.
Udah siap mental aja nih kalau gag ngaruh mau diapain nih duit supaya balik modal. Tapi nekat beli aja. Sekitar 2 hari kemudian paket pesenan EMC dateng dan malamnya langsung dipakai tipis-tipis setelah krim Vitacid tapi nunggu 30 menit dulu supaya si Vitacid menyerap. Besoknya masih kurang merasakan perubahan tapi setelah 3-4 hari saya pakai EMC di pagi dan malam kulit rasanya mulai lembap dan tidak kering. Bagian yang kulitnya terkelupas sudah mulai hilang dan setelah seminggu pemakaian kulit jadi lembap dan tidak ada yang terkelupas sama sekali. Tangan juga jadi lembut banget dan pengen megang-megang tangan saya sendiri terus hehehe... Selain itu kuku juga jadi makin kuat dan putih, padahal biasanya mudah banget patah sampai bikin kesel, soalnya suka bikin lecet kulit kalau tidak sengaja kegaruk. Sekarang nih kuku sudah lumayan panjang tapi tidak patah sama skali. Mau dipotong sayang, tapi nanti susah nih pakai softlens.
Karena rasanya EMC ini oke banget, saya mulai pake EMC di bibir karena bibir saya selalu pecah-pecah. Saya pakaii yang banyak di malam hari sebagai masker bibir supaya besoknya kulit bibirnya mengelupas dan keluar kulit baru yang lembut. Sekarang terasa lembutttt terusss... Tidak pecah-pecah lagi, buang deh smua produk-produk lip balm tuh.
Bibir udah oke apalagi yang mau dicoba? Cari-cari info katanya bisa buat rambut sebagai leave in conditioner dan ngilangin ketombe. Karena di-smoothing rambut saya jadi kering, mudah patah, dan ujungnya agak keriting-keriting aneh gitu. Nyebelin deh... Jadi kupakailah si EMC ke ujung rambut saja dan dikombinasikan dengan Shiseido Tsubaki Shampoo yang katanya bagus banget buat rambut. Udah mau seminggu pake EMC dan 2x keramas dengan shampoo ini ujung-ujung rambut saya sudah tidak ada yang keriting lagi dan rambut patah juga sudah hampir tidak terlihat lagi... Yayy...
Untuk mengatasi ketombe caranya ambil sedikit EMC dan usap di telapak tangan sampai EMC-nya meleleh lalu dipijat ke kulit kepala. Digunakan pada malam hari saja karena membuat kulit kepala sangat berminyak dan kemudian keramas pada pagi hari. Jangan lupa pakai hair cap ya supaya sarung bantalnya tidak kotor. Nanti bikin wajah dan leher kamu jerawatan lagi.
Terakhir saya mencoba EMC untuk bulu mata karena katanya bisa untuk memanjangkan dan menebalkan bulu mata. Cara pakainya cukup dengan dioleskan dengan jari ke bulu mata dan area mata (untuk eye cream sekalian). Lumayan loh bulu mata saya tadinya sering rontok sekarang jadi lebih kuat.
Likes:
- awet sampai berbulan-bulan
- multifungsi bisa untuk seluruh tubuh
Dislikes:
- banyak yang palsu
Where to Buy Original EMC?
EVOO (Extra Virgin Olive Oil)
Saya sudah sering mendengar manfaat dari minyak zaitun untuk kesehatan dan kecantikan lalu akhirnya memutuskan untuk mencobanya. Setelah baca-baca ternyata si Minyak Zaitun aka EVOO ini bagus untuk bibir pecah-pecah dan menghitam. Agak kurang percaya sih tapi bener loh setelah 2 hari saya gunakan bibir saya jadi lebih pink dan lembut namun sayangnya setelah satu minggu muncul bruntusan kecil di daerah sekitar bibir. Sepertinya saya alergi dengan minyak zaitun (TAT)....
Hope I can use it for other beauty needs....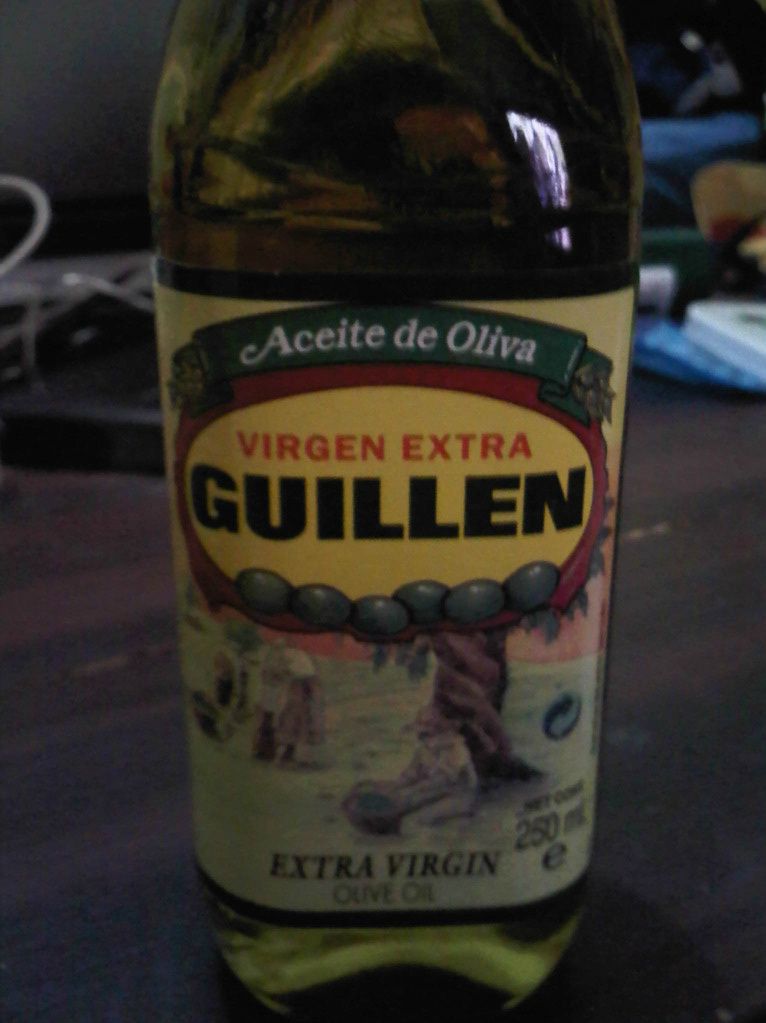 Likes:
Dislikes:
Where to Buy?
Supermarket seperti Carrefour, Indomaret, Giant, Hypermart, Ranch Market, Lottemart, etc
Add me on your list ^^
or maybe visit my Shop
Reposted from my old blog http://hanaiyzm.blogspot.com before it was hack
Repost dari blog http://hanaiyzm.blogspot.com sebelum di hack