Today I'm gonna do review on 3 circle lens that I recently purchased, they are GEO Xtra Nudy Black, Princess Mint Green, and Miss Eye Princess Sakura Brown.
Hari ini saya mau mereview 3 circle lens yang sudah saya beli, mereka adalah
GEO Xtra Nudy Black, Princess Mint Green dan Miss Eye Princess Sakura Brown.
GEO Xtra Nudy Black
Geo is my favorite brand of circle lens, I've been using it for almost two years now. I used to buy the black circle 14mm lens but this Xtra Nudy in black caught my eye. It has 15mm in diameter which is bigger than I used to but since it'a Geo I'm sure it'll comfortable and my expectation is right. After wearing it for almost half a day my eyes stills feel comfortable and moist. The other contact lens sometimes irritates my eyes only after about two hours of wearing it.
Geo adalah salah satu brand favorit saya dan saya sudah menggunakan brand ini selama 2 tahun. Biasanya saya lebih sering mengunakan Black Circle dengan ukuran 14mm namun kali ini ukuran besar dari Xtra Nudy membuat saya tertarik. Ukurannya cukup besar yaitu 15mm dan meskipun agak khawatir dengan diameter yang besar namun berhubung ini Geo saya yakin pasti nyaman dipakai dan ternyata memang bener loh! Sudah saya gunakan selama setengah hari dan masih nyaman dipakai, untuk brand lain padahal dua jam saja sudah bikin mata saya iritasi lohh!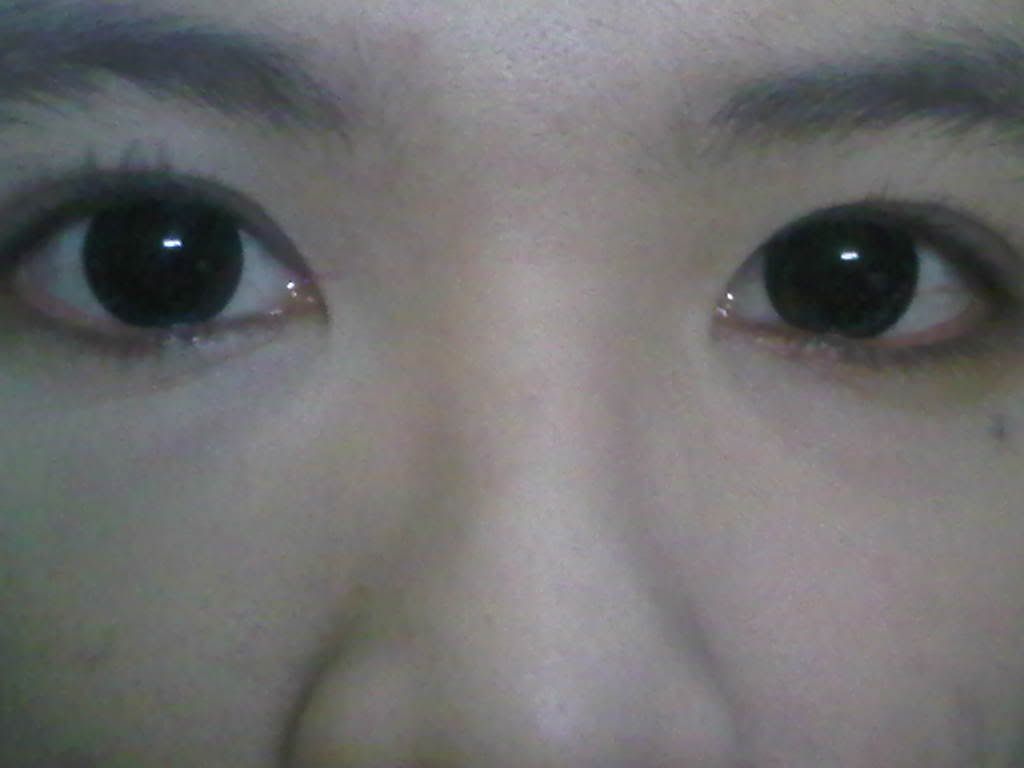 If you wanted a big eye effect this contact lenses surely works its magic, with 15mm in diameter it'll certainly has a dolly effect and since it's a nudy series it has a shiny effect to your eyes, but if you want your eyes to look real black than maybe Geo Super Black Circle in 14.7mm diameter will suits you more.
Kalau kamu mau mata kamu tampak lebih besar cobain deh Circle Lens apalagi ini seri Nudy yang selain bisa memberikan Dolly Look yang kawaii tapi juga membuat mata kamu tampak lebih bersinar #KedipKedip. Tapi kalau kamu ingin mata kamu tampak lebih hitam mungkin bisa mencoba Geo Super Black Circle dengan diameter 14.7mm.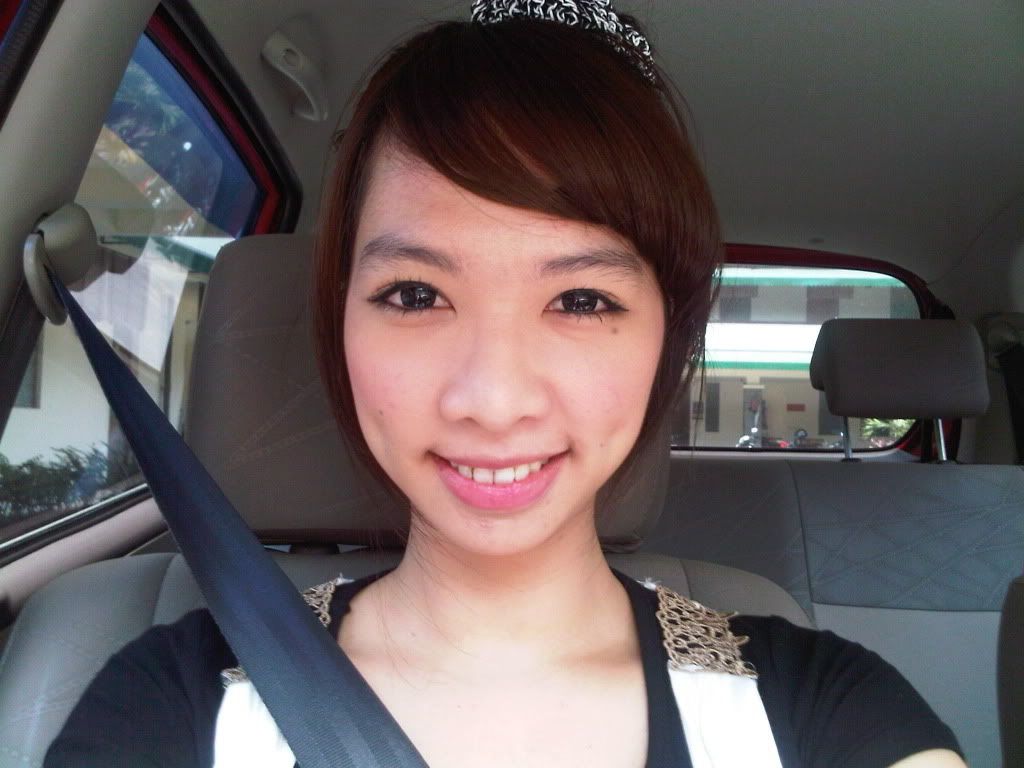 Princess Mint Green
T
his is the latest cosmetic lens that comes into the market and I decided to try the mint series. The inspiration from this contact lens comes from the Power Puff Girl with their big eyes that has a monotone color circle. According to their ad this contact lens contains silicone hydrogel that makes the wearer feel comfortable for more than 12 hours!!
Princess merupakan brand yang baru masuk di pasaran dan saya mencoba seri Princess Mint. Inspirasi dari Circle Lens ini datang dari Power Puff Girls yang memiliki mata besar dan cute. Produk ini terbuat dari silicone hydrogel sehingga penggunanya tetap merasa nyaman meskipun digunakan lebih dari 12 jam!!
As it turns out it really does feels comfortable for more than 12 hours!! I've been wearing this contact lens from morning till evening and my eyes still comfortable, I don't even have to put some eye drop since it's still moist. What I really like about this contact lens is that the color really pops!! But if you want a more natural look to your eyes this maybe doesn't suit you.
Ternyata klaimnya tidak bohong loh!! Princess Mint ini saya gunakan selama setengah hari lebih dari pagi sampai malam tapi tetap nyaman!! Biasanya saya harus sering menggunakan tetes mata tapi ini bisa berkurang jauh bahkan tidak perlu. Selain itu warna dari Princess Mint ini "keluar" banget! Cocok untuk yang ingin terlihat lain dari yang lain tapi mingkin kurang cocok untuk yang lebih suka Circle Lens yang tampak natural.
See how the color really shows!! This contact lens has 15mm in diameter and I got a soccer case as a bonus.
Tuh warnanya manteub banget kan!! Ukurannya berdiameter 15mm dan ada bonus soccer case juga loh.
Miss Eye Princess Sakura
This is the third contact lens that I bought, I don't usually bought a lot but this time I had a shopping spree!! I just can't stand since this one is really cute!! This is the first contact lens I buy that has a flower motif in it, doesn't it make you curious too?? I wonder what a flower would look on my eye? This contact lens has the biggest diameter to, it's 17.8mm, when this contact lens arrive I almost had a buyers remorse since I'm not used too wear a contact lens this big. What if I look weird? What if it's not comfortable?
Review yang ketiga adalah Miss Eye Princess dan biasanya saya jarang memborong segini banyak tapi berhubung polanya lucu akhirnya saya gak tahan juga he he he.... Ini adalah Circle Lens pertama saya yang memiliki motif bunga dan rasanya lucu aja gitu ada motif bunga di mata saya, Diameternya cukup besar juga loh, 17.8mm dan waktu barangnya sampai di rumah saya agak sedikit menyesal juga karena takut kalau tidak cocok di saya atau nantinya tidak nyaman.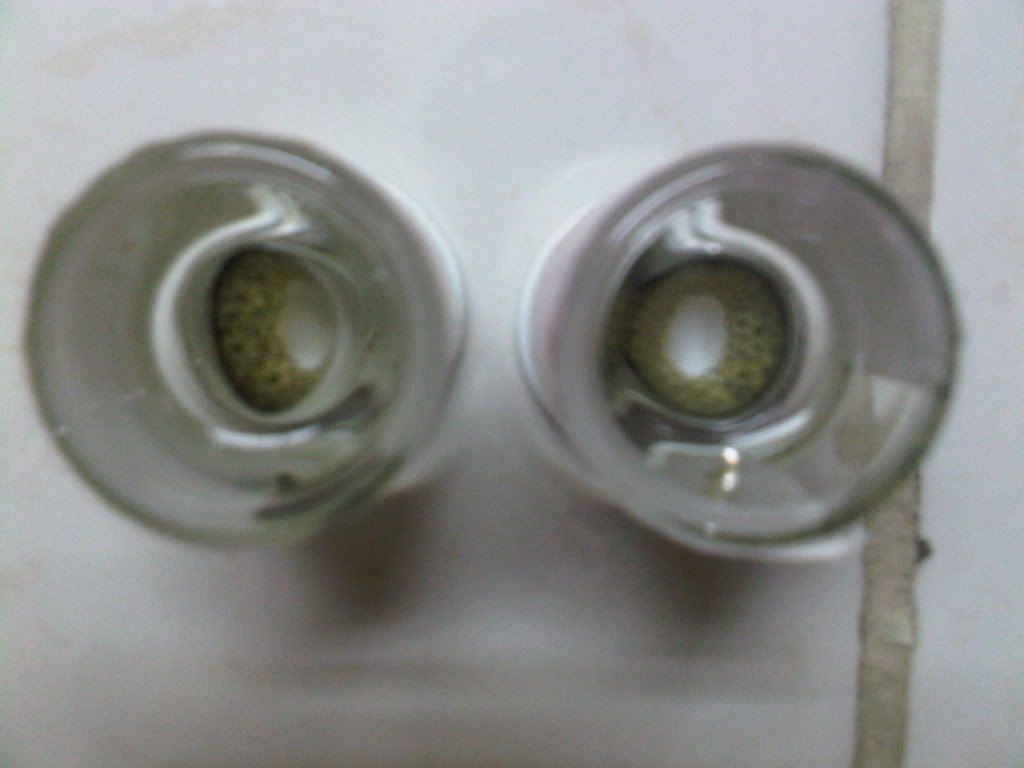 Okay, it really makes your eyes really really big, and thankfully it's comfortable and I don't look weird wearing it. I think the flower motif kinda look like batik, don't you??
Okay setelah digunakan ternyata memang membuat mata saya jadi tampak jauh lebih besar tapi untungnya masih tetap nyaman dipakai dan saya tidak tampak aneh kan?? Setelah dipikir-pikir ternyata motifnya juga mirip batik ya??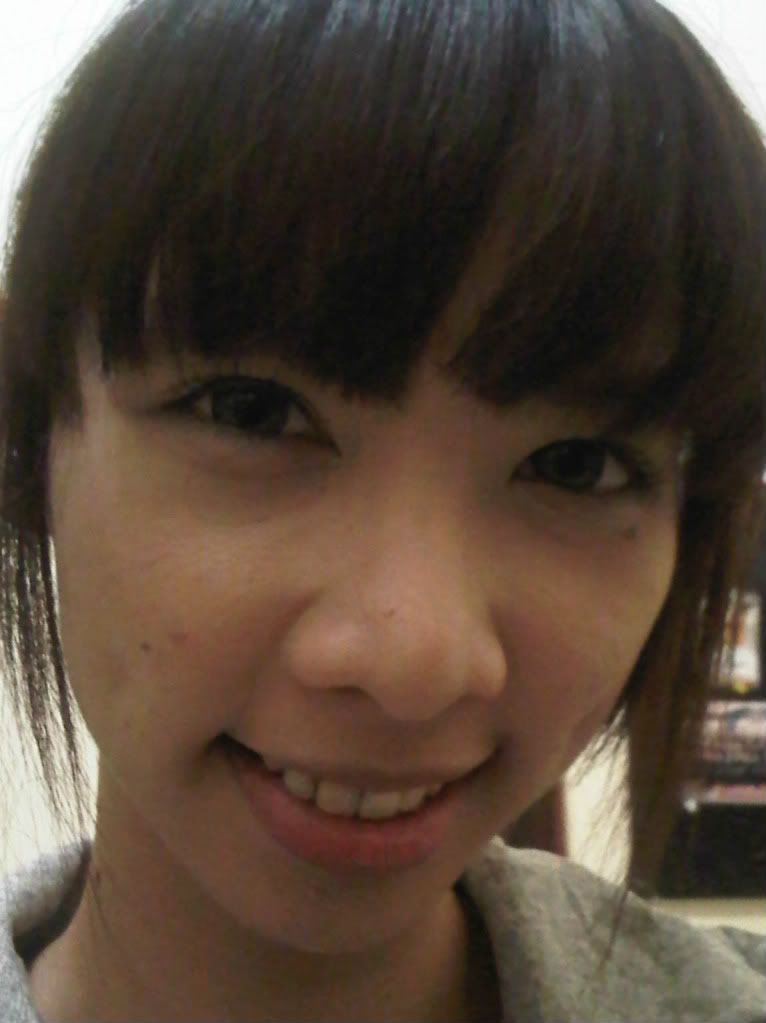 This miss eye contact lens is also pretty comfortable, I've wear this for more than 6 hours and my eyes still feels fine and comfortable but I do have to use some eye drops once or twice and you can only notice the flower motif if you look at the closely.
Miss Eye Princess Sakura ini cukup nyaman digunakan dan setelah 6 jam lebih mata saya masih terasa nyaman dan lembab. Cuman untuk brand ini memang harus lebih sering menggunakan tetes mata dibanding brand Geo dan Princess dan motif bunganya juga baru terlihat dalam jarak yang cukup dekat.
Add me on your list ^^
Reposted from my old blog http://hanaiyzm.blogspot.com before it was hack
Repost dari blog http://hanaiyzm.blogspot.com sebelum di
retas