Hi!!
Kali ini saya mau review produknya The Skin Food yaitu Tea Tree Essence dan Emulsion. Kenapa saya tertarik dengan produk ini? Karena produk ini mengandung Tea Tree yang notabene memang bagus untuk kulit berjerawat. Saya sendiri suka menggunakan Tea Tree Oil karena lebih mampu mengeringkan jerawat tanpa membuat kulit di sekitar jerawat ikut kering seperti kalau saya menggunakan salep jerawat. Selain Essence dan Emulsion, produk lainnya dari seri Tea Tree ini adalah Face Cleanser dan Toner cuman tidak saya beli karena saya sudah punya pembersih wajah dan lebih suka menggunakan home made toner (resepnya ada
disini
dan disini).
Botol dari Tea Tree Essence berupa botol vakum transparan dengan label vintage, tekstur essence-nya sendiri seperti gel dengan warna transparan dan memiliki wangi khas tea tree. Deskripsi produk ini menurut Skinfood adalah "A soothing essence for troubled, oily skin, containing tea tree oil and willow herb extract that control excess sebum". Jadi produk ini merupakan essence yang menenangkan kulit bermasalah, kulit berminyak yang mengandung tea tree oil dan ramuan ekstrak willow yang membantu mengontrol kadar minyak berlebih. Sekali penggunaan cukup sekitar 1.5 pump di telapak tangan kemudian saya tepuk perlahan-lahan ke wajah. Essencen-nya menyerap dengan cukup cepat dan kemudian dilanjutkan dengan emulsion,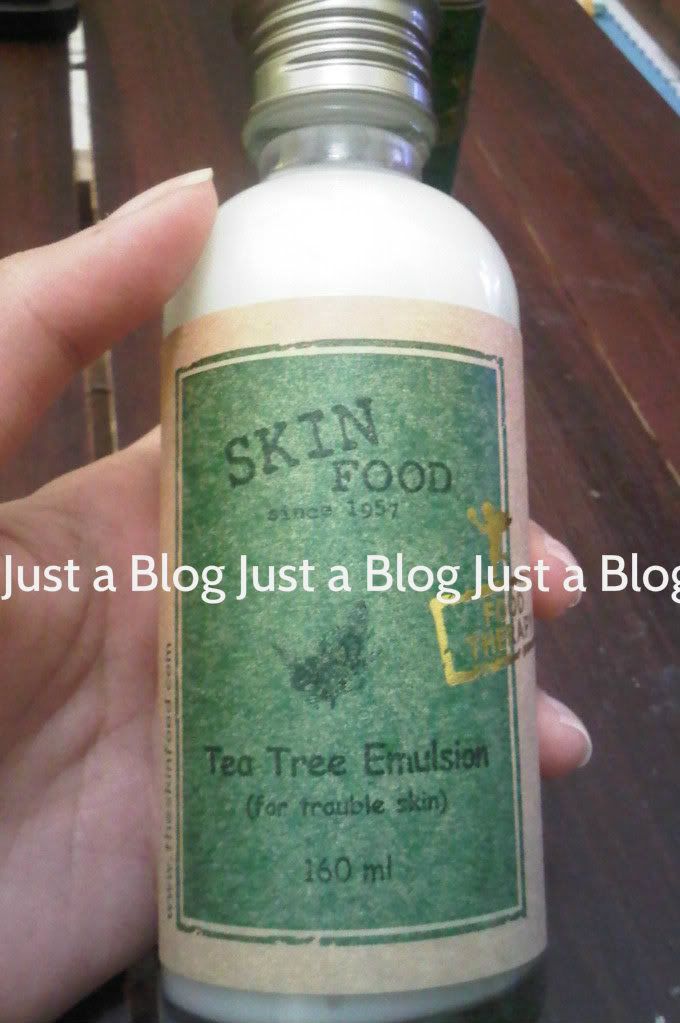 Tea Tree Emulsion ini botolnya terbuat kaca dan terlihat sangat vintage. Tekstur emulsionnya agak cair berwarna kehijauan dengan aroma khas tea tree. Cara pakainya sama seperti essence yaitu dituang secukupnya ke telapak tangan kemudian ditepuk-tepuk secara perlahan ke wajah.
Sejauh ini kombinasi kedua produk tersebut cukup bagus di wajah saya, kulit terasa lebih lembab dan selama penggunaan tidak terlihat adanya jerawat baru yang muncul. Untuk jerawat yang sudah bersarang di wajah saya tidak begitu terasa efeknya tapi dan yang paling terasa sih area kemerahan di wajah saya lebih berkurang. Jadi saya rasa produk ini lebih cocok untuk mencegah jerawat dibanding untuk mengobati jerawat.
Produk ini saya gunakan pada pagi dan malam hari, untuk pagi hari sebelum sunblock dan bb cream dan pada malam hari sebelum krim malam dan obat jerawat.
Pro:
- cepat menyerap
- mencegah jerawat
- melembakan
- mengurangi kemerahan
Cons:
- None
Where to Buy?
- The Skin Food Counter
- Online like eBay, Tokopedia, QOO10, Rakuten etc
Add me on your list ^^
or maybe visit my Circle Lens Shop
Reposted from my old blog http://hanaiyzm.blogspot.com before it was hack
Repost dari blog http://hanaiyzm.blogspot.com sebelum di hack