Hey hey...!!!
Kali ini saya mau bagi-bagi pola lagi, berhubung tema owl atau burung hantu sedang populer akhirnya saya ikut-ikutan mencari hasil rajutan dengan tema owl tapi yang hasilnya cepat dan bisa langsung dipakai. Ketemulah saya dengan dompet koin owl ini di blog
Maggie Makes Stuff
.

Today I'm gonna share another crochet patter and since Owl seems to be trending now I'm also on the look for an Owl Theme crochet project that's easy, didn't take a long time to make and can be use right away.That's when I stumble upon this cute Owl Coin Purse from
Maggie Makes Stuff.
.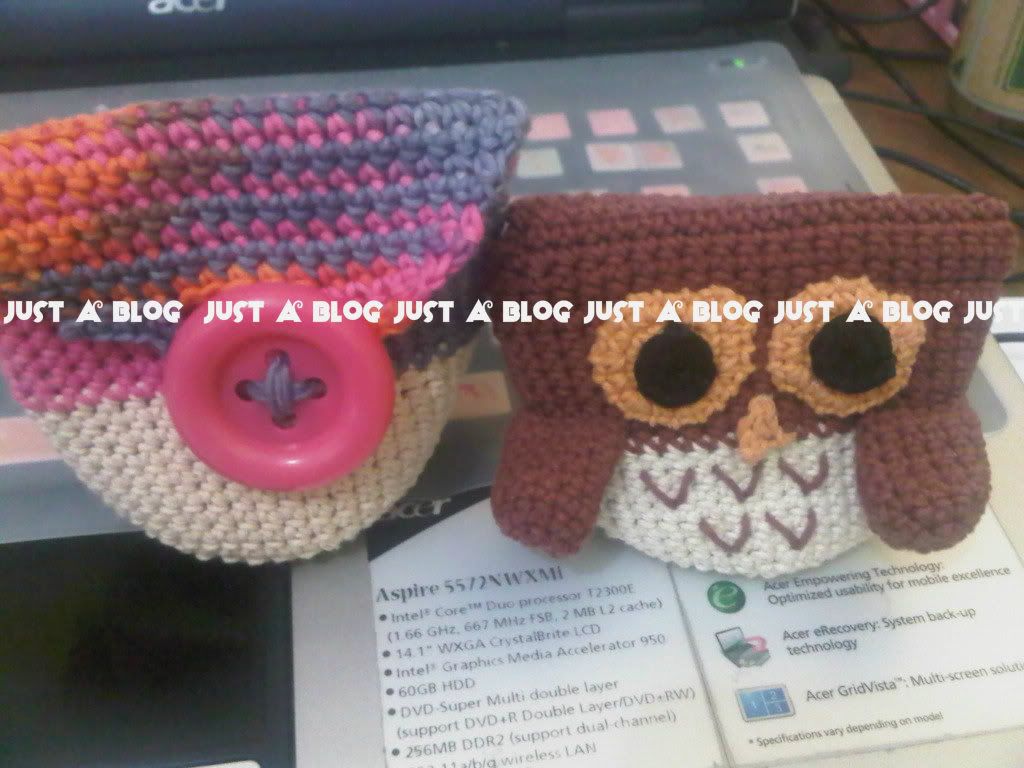 Untuk pola dompet, sayap, dan bulu saya meniru dari blog Maggie Makes Stuff, sedangkan bagian mata, hidung, dan penutup dompet saya modifikasi sendiri. Bagian mata terbuat dari 2 pola lingkaran rajut yang ditempel atau bisa juga dijahit karena saya malas mencari kancing untuk matanya, sedangkan hidungnya saya tidak memakai potongan kain felt tapi cukup dengab membuat rajutan berbentuk segitiga.
Polanya adalah: buat 4ch, lalu dari rantai kedua dari hook buat sc, hdc, dan dc hasilnya berupa rajutan berbentuk segitiga yang kemudian ditempel menjadi hidung.

For the most part I follow the pattern from Maggie Makes Stuff and the one that I modifies are the eyes, nose and purse closure. I use two crochet circles for the eyes because it's easier than looking for a black button. For the nose Maggie use a felt fabric and I made a crochet triangle.
The pattern for the nose: make 4 ch, in 2nd ch from hook make an sc, hdc and dc. It will look like a triangle and then I glue it to the owl as a nose.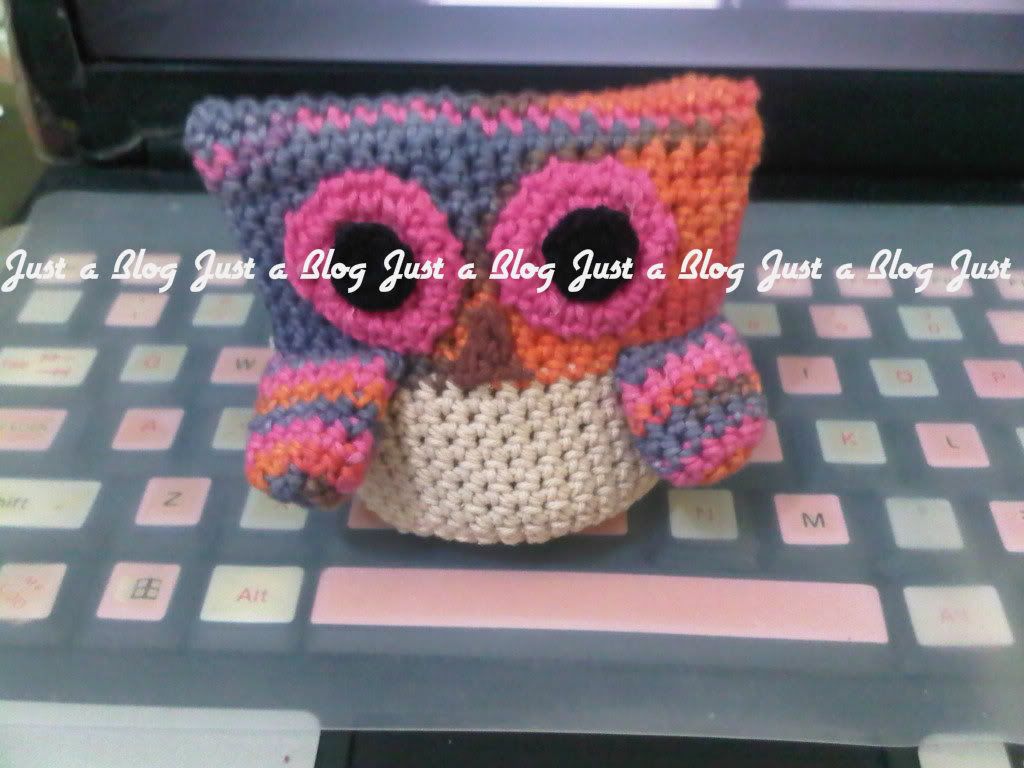 Untuk penutup dompetnya karena saya tidak bisa menjahit lining dan retsleting maka setelah si owl jadi saya teruskan lagi membuat beberapa baris sc untuk nantinya ditutup dengan menggunakan kancing.

For the purse closure since I can't sew lining or zippper I add another few rows of sc, made a button hole and then sew button on the other side.
Add me on your list ^^
or maybe visit my Circle Lens Shop
Reposted from my old blog http://hanaiyzm.blogspot.com before it was hack
Repost dari blog http://hanaiyzm.blogspot.com sebelum di hack