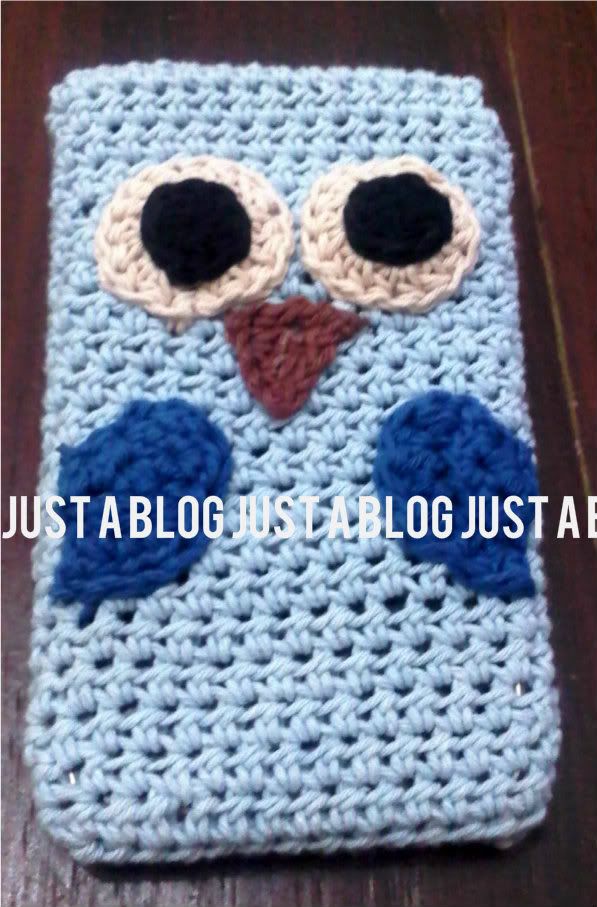 Kali ini saya membuat sarung handphone dengan tema owl. Untuk desain sarungnya saya menggunakan tusuk double crochet supaya cepat jadinya tapi ternyata agak bolong-bolong dan kurang rapat ya? Sepertinya juga lebih bagus lagi kalau ada lining di dalamnya. Pola untuk sarungnya ada di
CrochetSpot
.
For the owl theme I tried making an Owl Phone Case and it's mainly made from rounds of double crochet so I can finish it quickly but the end results have these weird gaps inside. I think it would've look better with lining inside but I'm laazzeeeee. For the case pattern you can look it up from
CrochetSpot
.
Mata (Eyes):
Bagian matanya saya buat dari 2 lingkaran rajut dengan warna yang berbeda lalu dijahit.
I made the eyes from 2 crochet circle and sew them together, if you're lazy just glue it.
Hidung (Nose):
Untuk hidungnya juga dibuat dengan dirajut yaitu buat 5 ch, lalu pada ch ke2 dari hook buat sc, hdc, dc dan tc yang nantinya kan menjadi bentuk segitiga, setelah jadi hidungnya cukup dilem saja.
I made the nose from crochet rounds too: make 5 ch, and then from the 2nd ch from hook make and sc, hdc, dc and tc. It will look like a triangle and then I just glue it.
Sayap (Wings):
Bagian sayap aku buat dengan merajut setengah lingkaran lalu dijahit,
For the wings I made a half crochet circle and then sew them to the case.
Kancing (Button):
Karena susah cari kancing yang cocok saya membungkus kancing biasa dengan rajutan, caranya cukup dengan membuat lingkaran rajut sesuai dengan ukuran kancing, matikan rajut dengan ekor yang agak panjang, kemudian kancingnya diletakkan di tengah rajutan. Supaya kancingnya terbungkus sisa dari ekor benang tadi diselipkan di setiap tusukan (Pakai jarum lebih gampang) lalu ditarik seperti kalau membuat tas serut kemudian matikan benang.
Because it's pretty tricky to look for a matching button I cover a regular button with a crochet rounds and leave a long tail when fastening off for sewing.
Lubang Kancing (Button Hole):
Untuk membuang lubang kancing cukup lewati tusukan selanjutnya dengan membuat ch, misalnya kancing sebesar 4 tusukan jadi buat 4 ch kemudian lanjutkan dengan tusukan yang sama (misalnya sebelumnya menggunakan hdc lanjut dengan hdc).
For the button hole I just skip about 4 dc by making 4 ch and then continue the round.
Istilah (Terms):
ch = chain
hdc = half double crochet
dc = double crochet
tc = triple crochet
Add me on your list ^^
or maybe visit my Circle Lens Shop
Reposted from my old blog http://hanaiyzm.blogspot.com before it was hack
Repost dari blog http://hanaiyzm.blogspot.com sebelum di hack