Setelah mencoba beberapa produk pasaran yang terkadang tidak cocok di kulit saya akhirnya saya mulai beralih ke homemade remedies. Browsing sana-sini akhirnya saya mampir ke channel Youtube Bubzbeauty. Nah kata si Bubz yoghurt dan oatmeal itu bagus untuk jerawat. Saya pikir bolehlah dicoba, kalau ternyata tidak cocok minimal bisa dimakan sendiri he he he.... Tapi resepny sedikit saya modifikasi ya. Berikut resepnya....
After trying out a lot of products that's on the market and didn't have a satisfying result I recently turn into homemade remedies. So after browsing here and there I stumbel upon Bubzbeauty Youtube channel and she said that Yoghurt and Oatmeal is good for acne prone skin. I thought... Why not!! If it didn't work at least I can eat that stuff he he he.... Here's my modified recipe
Bahan (Ingredients):
2 sdm Plain Yoghurt. pilih yang agak kental. | 1 tbs Plain Yoghurt.
1 sdt EVOO | 1 tsp EVOO
1 sdm Madu | 1 tbs Honey
2 sdm Oatmeal | 2 tbs Oatmeal
Cara Buat (How to Make):
Campur bahan diatas sampai kental dan oleskan ke wajah. | Mix all of the ingredients into paste consistency. Apply on face.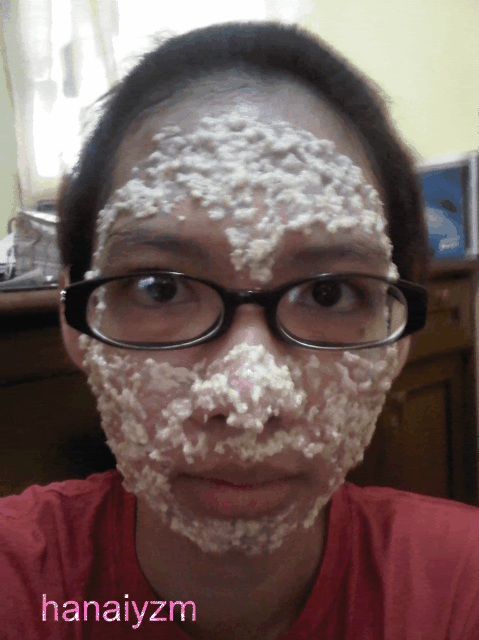 Oke bentuk saya memang tidak karuan tapi setidaknya tidak ada yang lhat ini... (Kecuali kalian ha ha ha) Diamkan sekitar 15-30 menit lalu bilas dengan air hangat. Masker ini lumayan membantu untuk bagian wajah saya yang agak merah karena jerawat dan lumayan menenangkan kulit saya.
Okay I don't exactly look like a million dollar but hey nobody's looking right?... (Well you guys did anyway) I leave the mask on for 15-30 minutes and rinse with warm water. This mask really helps with my redness and calms my irritating skin.
Add me on your list ^^
or maybe visit my Shop
Reposted from my old blog http://hanaiyzm.blogspot.com before it was hack
Repost dari blog http://hanaiyzm.blogspot.com sebelum di hack