Sudah lama suka belanja produk-produk Korea sering juga dapat sampel, tapi jarang banget saya coba dan akhirnya menumpuk. Kali ini saya mau coba sampel yang satu ini yaitu The Smim Pore Finish Essence dari The Face Shop. Akhir-akhir ini saya suka memakai essence wajah karena lumayan juga efeknya ke kulit, terasa lebih halus dan segar kalau dipakai. Harga produk ini cukup mahal sekitar 300 ribuan kalau dirupiahkan dari harga aslinya dan sepertinya tidak masuk di pasar Indonesia. Kalaupun masuk di mall-mall mungkin harganya jauh lebih mahal.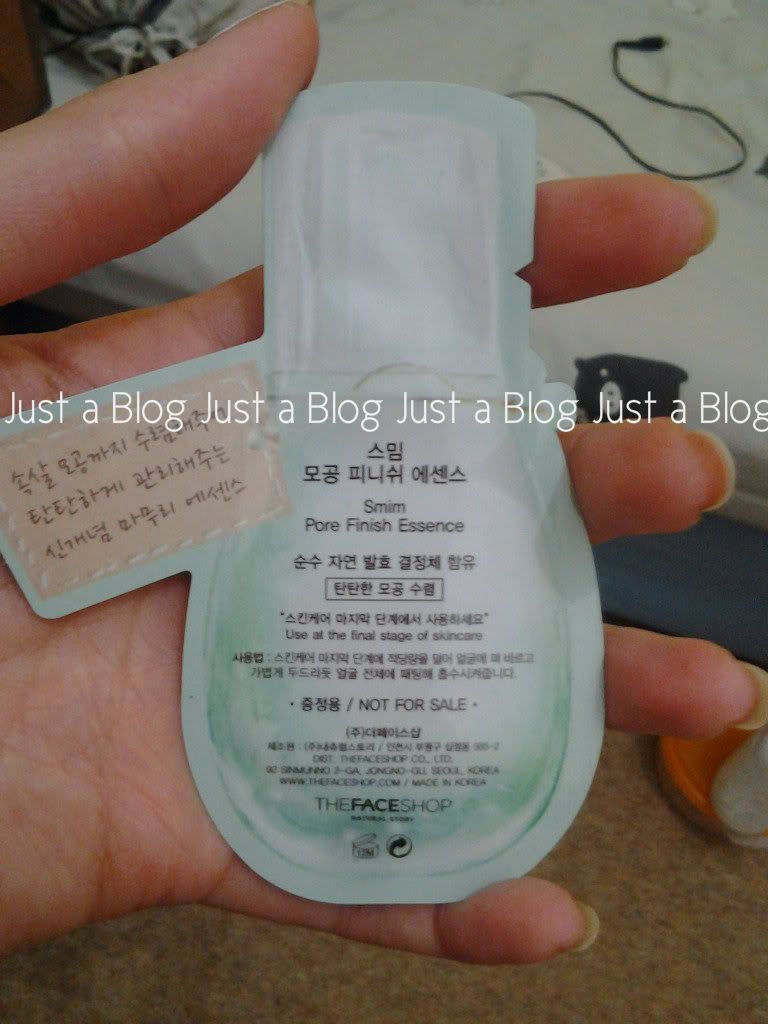 Bentuk sampel sachetnya lucu dan ukurannya cukup besar, kalau dipakai pada malam hari saja bisa sampai beberapa hari. Kalau

tidak

salah sih bentuk botol kemasan aslinya juga mirip seperti gambar sachetnya hanya berwarna biru tua.
Tekstur dari essencenya seperti gel dan baunya agak wangi, dipakai sedikit saja juga cukup untuk seluruh wajah sambil ditepuk-tepuk perlahan supaya lebih menyerap. Smim ini cepet banget menyerap di wajah dan yang tidak saya sangka ternyata di pagi hari wajah terasa jauh lebih halus dan segar!! Awalnya agak skeptis juga sih sama produk ini tapi ternyata oke banget.
Likes

:
Cepat menyerap di wajah
Irit pemakaian, sedikit aja cukup untuk seluruh wajah
Membuat wajah lebih halus
Dislikes

:
M.A.H.A.L!!!!!!!!!!!!!!!!
Add me on your list ^^
or maybe visit my Circle Lens Shop
Reposted from my old blog http://hanaiyzm.blogspot.com before it was hack
Repost dari blog http://hanaiyzm.blogspot.com sebelum di hack