Since I have nothing to do today I've been blog-walking since noon and now I decided to make some new posts on my blog. Today I'm gonna share a tutorial on how to make flower hair tie.
The flower is very easy and you can make it into anything you want such as rings, brooches, clothes embellishment, and many other things. But this time I choose to put it into a hair tie.
Karena saya lagi tidak ada kerjaan dan cuman
blog-walking
dari siang mendingan saya buat postingan baru aja kali ya? Hari ini saya mau kasi lihat cara saya mempercantik ikat rambut dengan bunga rajut.
Cara membuat bunganya juga super gampang dan gak cuman dibuat ikat rambut aja sih tapi bisa dibuat berbagai macam aksesoris cantik lainnya seperti bros, cincin, anting dll.

Here's the pattern (US version):
- I use #5 rose steel crochet hook and 3 different yarn color, but you can make it in one or two color and you can also add button as a flower center
-
Make a magic circle or a loop. 6sc into the loop. Ss into first sc. Change color (*if you want). 2sc into each 6sc. Ss into first sc. Change color (*if you want). In first sc (1 hdc, 2 dc, 1 hdc). Ss into next sc. *In next sc (1 hdc, 2 dc, 1hdc). Ss into next stitch. Repeat from * until end. Fasten off and weave in ends.
I made several flower and sew it in a store bought hair band, I choose black hairband since it's discreet and versatile. Here's what it look like on the hairband.
Karena saya lebih nyaman dengan US
terms
polanya saya
share
dengan versi itu ya:
- Disini saya menggunakan hakpen rose no. 5 dan 3 warna benang yang berbeda, tapi kalau mau dibuat satu warna ya sah-sah aja kok.
- Buat
magic circle
atau
loop
. 6sc ke dalam lingkaran dan ss di sc yang pertama. Ganti warna kalau mau lalu 2sc ke setiap 6sc (total 12sc) dan ss di sc yang pertama. Ganti warna lagi kalau mau dan di sc yang pertama buat *1hdc, 2dc, 1hdc dan ss di sc selanjutnya*. Ulangi ** sampai habis lalu matikan benang.
This flowers also look really cute in a brooch, just glue this flower on a base and glue the brooch pin on the other side.
Bunga ini juga cantik loh kalau dibuat bros, bikinnya juga gampang. Tinggal melem bunga tadi ke sebuah base. Bisa dari kain felt atau seperti yang saya buat ini dari lingkaran rajut lalu tinggal dilem dan pasang pin deh.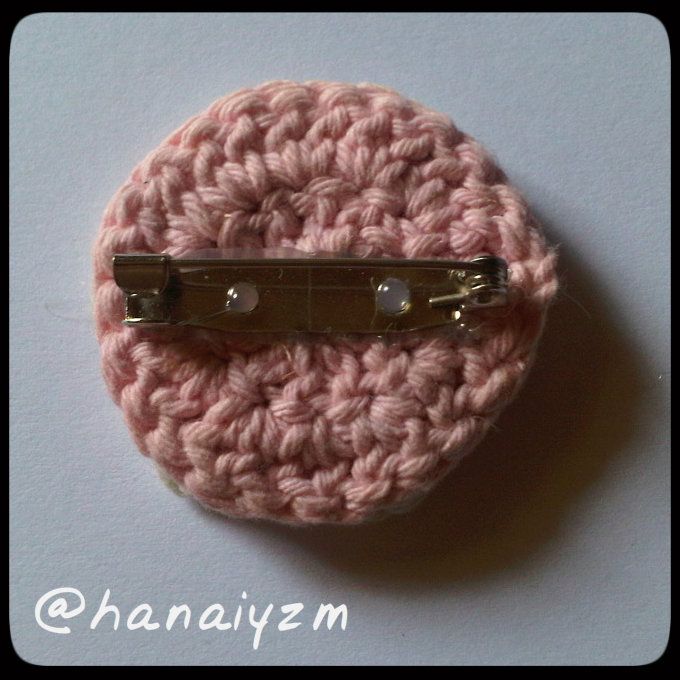 or maybe visit my Circle Lens Shop
Reposted from my old blog http://hanaiyzm.blogspot.com before it was hack
Repost dari blog http://hanaiyzm.blogspot.com sebelum di hack