Hei ho udah lama juga tidak berbagi hobi rajut merajut nih... Kali ini mau berbagi ide dan pola untuk bikin kalung mawar yang idenya aku dapat secara tidak sengaja. Awalnya adalah secara tidak sengaja aku masukin *maaf* bra ke dalam mesin cuci, walhasil rusaklah dan wire di dalamnya sampai keluar. Isenglah kucabut si wire itu dan ternyata bentuknya menarik he he he, kupikir lucu juga kalau kalung bentuknya gitu jadi kubuatlah bunga-bungaan mawar untuk dibungkus di sekitar wire itu.
Hei ho.. It's been a while since my last crochet post so today I'm gonna share about a my latest crochet necklace creation and it's also a recycle idea too! I got the idea when I saw an exposed wire from a ruined bra and when I pulled the wire out I thought that it would be a nice base for a crochet necklace.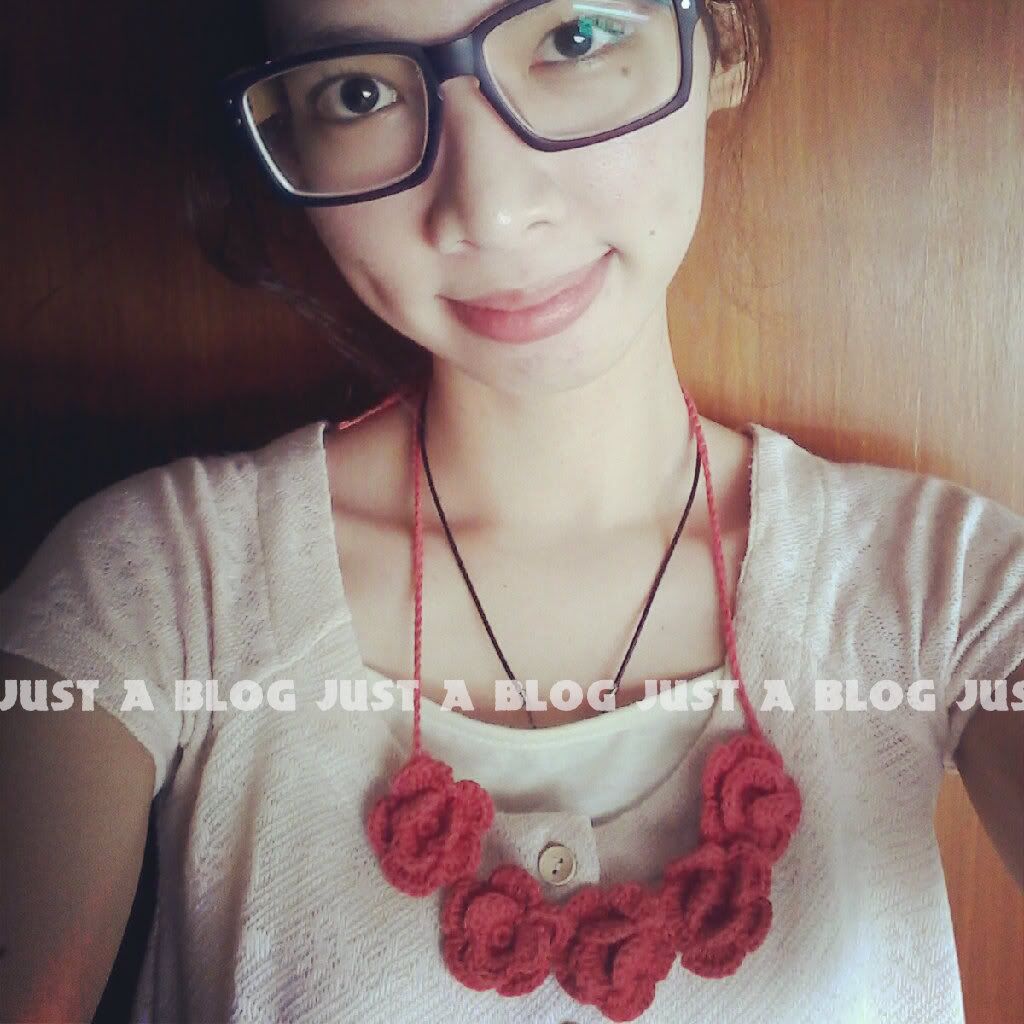 Rosettenya sendiri bisa diselipin disekitar wire namun supaya diam di tempatnya akhirnya aku lem juga di bagian belakang bunga. Untuk tali kalungnya aku sc sekitar 7-8 kali di ujung wire lalu dilem dan sisa kalungnya aku buat dengan 100 ch, jadi untuk memakai kalungnya tinggal diikat supaya panjangnya bisa disesuaikan.
Pola rosettnya ada di buku Crochet Accessoriesnya Ibu Ratu Sri Hastutie yang aku beli di gramedia, tapi untuk yang tidak punya bukunya polanya sebagai berikut:
*note: Bukunya menggunakan UK style pattern namun karena aku terbiasa menggunakan US style pattern jadi polanya kuubah menjadi US style
Bunga bagian atas ( 3 kelopak)
Round 1: Buat 4ch lalu di ss jadi ring
Round 2: Buat 1ch lalu 6sc dari dalam ring lalu ss.
Round 3: Buat 1ch lalu 1sc, lalu buat 3ch dari setiap 2sc yang digabung dengan membuat 1sc.
Round 4: Buat 1ch lalu 1sc, 5dc, 1sc dari dalam lingkaran ke 3 sebanyak 3 kali.
Bunga bagian bawah (5 kelopak)
Round 1: Buat 1ch masukkan dalam sc1 pada bunga atas (Round 4)
Round 2: Buat 3ch lalu masukkan pada sc selanjutnya (6sc pada Round 3 bunga atas diisi masing-masing 3ch sebanyak 5 kali).
Round 3: Buat 1sc, 7dc, 1sc dari dalam 5 ring pada Round 2 pada bunga bawah.
To make the necklace, I just slipped a few of these rosettes onto the wire and then glue it so that it won't budge. For the necklace strap I cover the wire with a few sc, glue it on and then make about 100 ch or so depends on how long I want the necklace to be.

You can see the pattern on "Crochet Accessories" book by Ratu Sri Hastutie but since she uses a UK style pattern and I'm not used to it I'm gonna share it here in US style pattern.


Top Rosettes ( 3 petals)
Round 1: Make 4ch and ss into a ring
Round 2: Make 1ch and 6sc from inside the ring and then ss.
Round 3: Make 1ch and 1sc, and then make 3ch from every 2sc and join with 1sc. It will be the ch base for the petal.
Round 4: Make 1ch and then 1sc, 5dc, 1sc from inside the ch base 3x (3 petals).
Bottom Rosettes (5 petals)
Round 1: Make 1ch and put it into the 1st sc on the Top Rosette (Round 4)
Round 2: Make 3ch onto the next sc (the 6sc in Top Rosette Round 3 and make 3 ch 5x). It will be the 3 ch base for the 5 petals.
Round 3: Make 1sc, 7dc, 1sc to make 5 petal.
Add me on your list ^^
or maybe visit my Circle Lens Shop
Reposted from my old blog http://hanaiyzm.blogspot.com before it was hack
Repost dari blog http://hanaiyzm.blogspot.com sebelum di hack