Motif rainbow lagi populer dimana-mana dari baju, aksesoris, sampai makanan semuanya rainbow!! Kalau untuk aksesoris daripada beli aku lebih suka bikin sendiri dan akhirnya terinspirasi untuk membuat beberapa aksesoris dengan tema rainbow.
Who doesn't like rainbow?? Nobody!! It's so pretty you can pretty much see it everywhere now from clothes to food. So today I'm gonna share you some of my rainbow theme accessories that you can pretty much wea

r everday for the whole year!!
Rainbow Necklace / Bracelet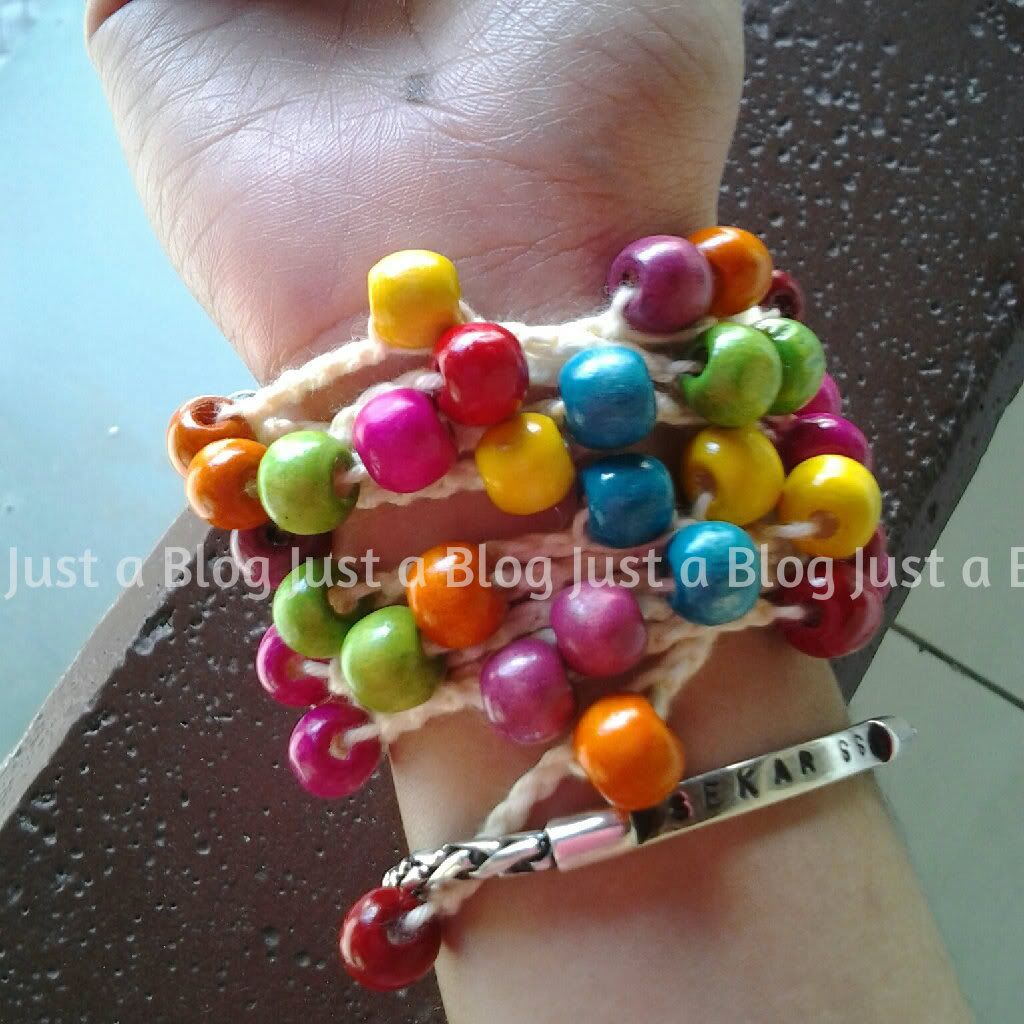 Ide pertama aku dapat waktu liat manik-manik kayu warna-warni, akhirnya aku iseng beli sebungkus dan kujadikan kalung dengan panjang sekitar 2 meter. Aksesorisnya multi fungsi karena bisa dibuat sebagai kalung dan gelang.
Untuk membuat kalung/gelang ini awalnya masukkan urutan manik-manik yang diinginkan, urutan manik-manik yang terakhir dimasukkan dalam benang adalah urutan pertama dari rajutan. Aku membuat kalung/gelang ini dengan selisih 10ch.
So I went to a craft store one day and saw these pretty wooden beads and thought that it would look pretty as a necklace or bracelet. I made it into a long necklace and if I want to use it as a bracelet I just wrapped it around.
Tutorial beaded crochet bisa dilihat disini (You can see the tutorial for beading into a crochet below):
Circle Rainbow Necklace
Ide selanjutnya berupa kalung rantai yang dihiasi dengan lingkaran rajut warna-warni, untuk rantainya sendiri bisa beli di toko aksesoris atau hobby shop lokal. Warna rantainya sendiri bisa sesuai selera, kali ini aku pake sisa stok lama yang warnanya hitam.
Lingkaran rajutnya cukup dibuat sebagai berikut dengan hakpen no 5:
Buat magic circle lalu 8sc (8sc)
Besar kecilnya lingkaran bisa dibuat sesuai selera.
As for this necklace I just thought that it would be cute to stack a bunch of crochet circle together and turn it into a necklace. It's also a great way to use some of those leftover yarn that I have built up

over the year.
I use steel c

rochet hook no. 5 and local cotton yarn for it:
Do a magic circle and then 8sc into the circle (8sc)
Make 2sc into the 1st sc and then fo (16sc)
Rainbow Bangle
Kalau bangle warna-warni ini terinspirasi dari blogwalking he he he. Ada 3 jenis bangle yaitu bangle polos yang patternya bisa dilihat di blognya
Token's Hooky Love
, aslinya bangle ini dibuat dengan ukuran hakpen yang lebih besar dan jenis benang yang lebih chunky namun aku hanya menggunakan benang katun dan hakpen #5. Motif bangle yang satu lagi yaitu motif garis dan basketweave bisa dilihat di blognya
Don't Eat The Paste
, untuk bangle motif ini aku menggunakan benang katun dan hakpen #5. Untuk yang bingung dengan fpdc dan bpdc bisa ke tutorialnya di crochetspot.
-
back post double crochet (bpdc)
I saw these colorful bangle from blogwalking and you can see the pattern at
Token's Hooky Love blog.
It's originally made from chunkier yarn using bigger crochet hook but since I don't own one I settle with local cotton yarn and steel crochet hook no. 5. As for the basketweave pattern bangle you can see the tutorial on
Don't Eat The Paste blog
. If you're confused about how to the fpdc and bpdc you can also see the tutorial at Crochet Spot blog in the link below:
back post double crochet (bpdc)
Istilah (Terms):
ch = chain
sc = single crochet
fo = fasten off
Add me on your list ^^
or maybe visit my Circle Lens Shop
Reposted from my old blog http://hanaiyzm.blogspot.com before it was hack
Repost dari blog http://hanaiyzm.blogspot.com sebelum di hack