Hello skin care mania.....!!
Today's review is about a product that has been getting a lot of rave and even has an improved version!! Yup... It's Etude House Wonder Pore Freshner!! I heard a lot of great things about this particular toner... But how does it fare on my skin??? Let's keep on reading fellas...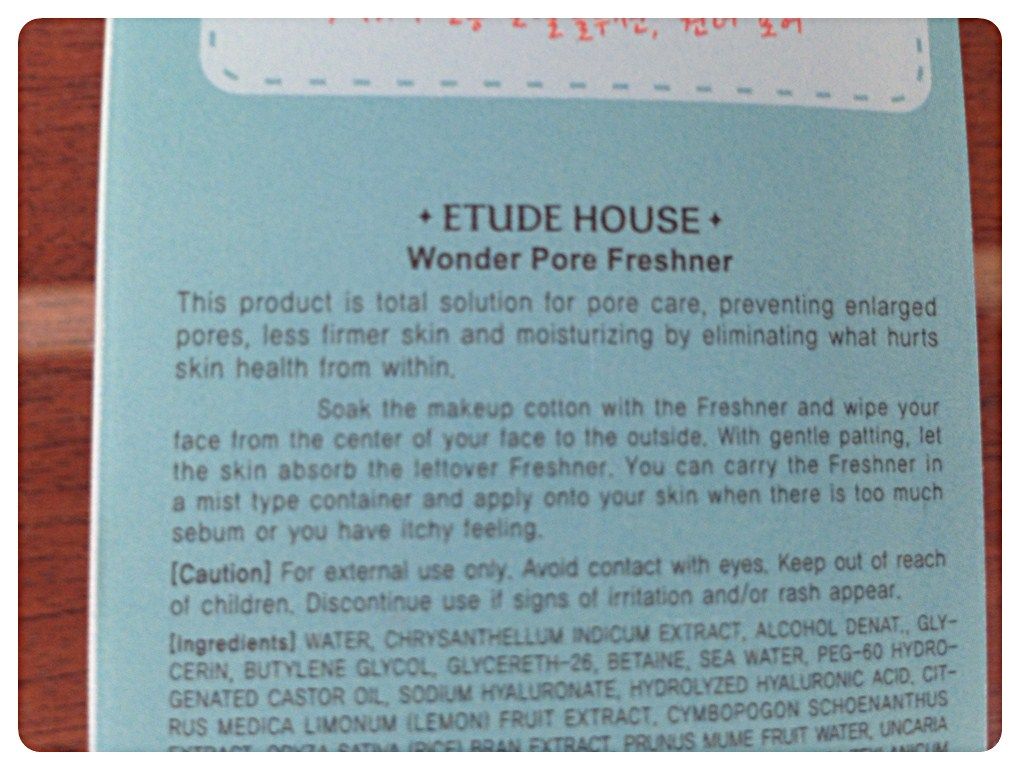 Description

:
Etude House Wonder Pore Freshner is a pore care product that prevents and shrinks enlarged pores, firms skin, and eliminates harmful bacterium from forming under skin. It solves multiple skin care troubles at once with its patented formula. Cinnamon, Lotus and, germanium extracts control excessive sebum while vegetable ingredients refine skin tone. Effectively cleans the inside and outside of pores with its special peppermint extract, balances pH levels, making skin pure like baby skin and preventing skin troubles caused by pH imbalance
It claims to do 7 of the following (The improved version even has 10 benefits!!):
★ Deep cleanse pores
★ Maintain pH balance 4.5 ± 1
★ Control sebum
★ Tighten pores
★ Brighten skin tone
★ Prevent enlarging of pores
★ Moisturize skin
Packaging:
Etude House is always known for their pretty packaging and this one is not an exception. The box is pretty and the bottle inside is pretty too! I really like the design and not only it's pretty it's quite sturdy too. Even though the bottle was made from the plastic and has flip top cap I haven't experience any leaking whatsoever.
H

ow to Use

:
Regular toner: I dispense a decent amount of Fresher on a cotton pad and swipe it on my face after I wash my face. It cleanses any residual dirt and tightens pore.
Facial mist: I put the Freshner in a mini spray mist bottle and spray it on my face when it feels uncomfortable.
Cotton mask: I put it on a cotton mask and do

the Chizu Saeki method.
Ingredients:
Water, Chrysanthellum Indicum Extract, Alcohol Denat, Glycerin, Butylene Glycol, Glycereth-26, Betaine, Sea Water, PEG-60 Hydrogenated Castor Oil, Sodium Hyaluronate, Hydrolyzed Hyaluronic Acid, Citrus medica Limonum, Cymbopogon Schoenanthus Extract, Oryza sativa, Prunus Mume Fruit Water, Uncaria Gambir Extract, Astringent, Nalumbo Nucifera Flower Extract, Cinnamomum Zeylanicum Leaf Oil, Sanguisorba Officinalis Root Extract, Pelargonium Graveolens Extract, Taraxacum officinale, Chrysanthemum Morifolium Flower Extract, Chamaecyparis Obtusa Water, Pulsatilla Koreana Extract, Disodium EDTA, Phenoxyethanol, Caprylyl Glycol, Ethylhexylglycerin, 1,2-Hexanediol
It's 6 free: paraben free, mineral oils free, fragrance free, artificial colors free, talc free and animal origin free.
The

Freshner

:
It's a translucent toner, has watery consistency and has a fresh scent to it too. I usually use it at night after I wash my face to get my skin back to its original conditions after putting on make up almost half a day. There's alcohol in the ingredients but it doesn't sting or dries my skin which I think was awesome.
My Thoughts:
Base on its 7 benefit claims here's my take on The Etude House Wonder Pore Freshner
Deep Cleanse Pores: The product is able to pickup some of the leftover residue after I even double cleanse my face although I personally think

The Etude House Skin Malgem Smoother

did a better job.
Maintain pH balance 4.5 ± 1: IDK if I can see it visually but my skin don't feel any harsh reaction after I use the Freshner.
Control Sebum: I have a combination skin and as far as controlling sebum I didn't notice any difference. Again... The Etude House Skin Malgem Smoother did a better job on maintaining sebum production.
Tighten Pores: Yes it tighten pores after my skin was abuse with make up and hot day (TAT) but if it means that the products makes my pores smaller than the original conditions then I don't notice any difference on my pore size.
Brighten Skin Tone: My skin didn't look dull and looks fresh.
Prevent Enlarging of Pores: Does it prevent my pore from getting bigger? Well my pores didn't get bigger but it didn't get smaller either.
Moisturize Skin: Yes it is!! Why? Because it contains Hyaluronic Acid, an ingredients that's able to create a moisture barrier on skin.
What I Like:
- Cleanses pore
- Didn't dry my skin.
- Feels fresh on my skin.
- Fresh scent.
- Multifunction as a toner, mist and mask.
- Last a long time.
- Affordable.
- No harsh reaction on my sensitive skin
What I

Didn't Like

:
- It doesn't make my pore smaller but it doesn't get bigger either.
Where to Buy?
How Much?
Around IDR 150,000 for 250ml
Add me on your list ^^
Reposted from my old blog http://hanaiyzm.blogspot.com before it was hack
Repost dari blog http://hanaiyzm.blogspot.com sebelum di
retas