Just another quick review on a nail polish remover that I bought in a dash. It's Elianto Strawberry Nail Remover, I think they made a mistake on the product naming because who wants to remove their nail anyway?? (Torture comes to mind though...)
Satu lagi review singkat tentang produk
nail polish remover
yaitu Elianto Strawberry Nail Remover. Dari namanya mungkin ada kesalahan penamaan kali ya? Kalau beneran nail remover serem donk!! He he...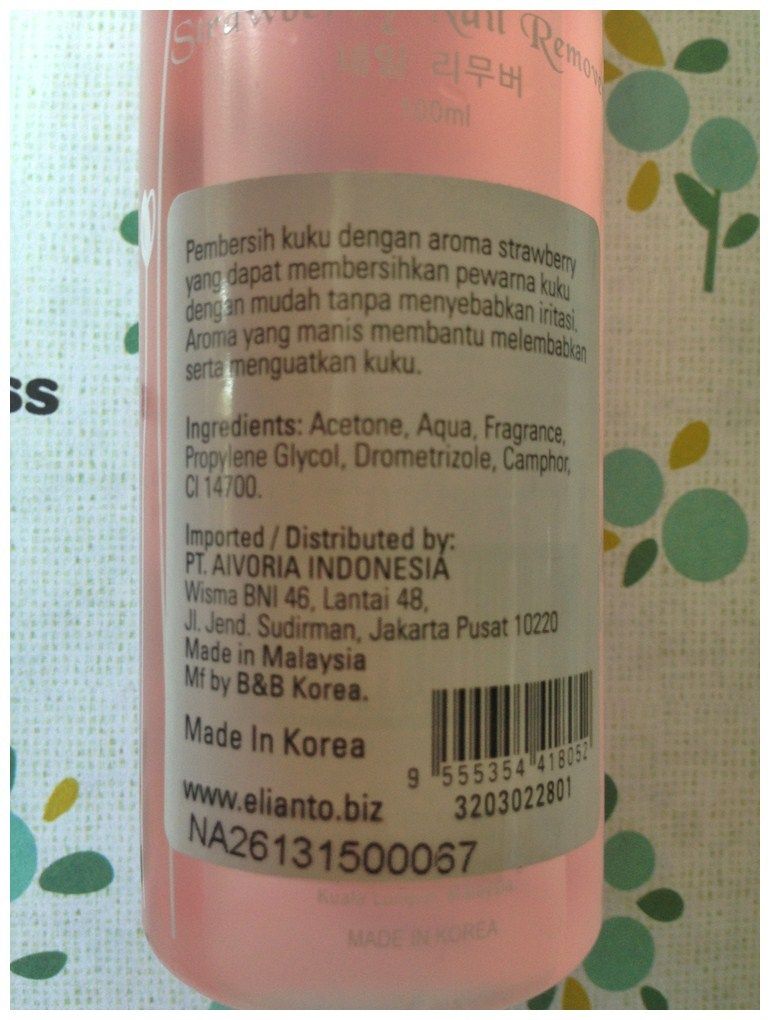 Description:
This tropical juicy strawberry scene nail color remover easily removes nail color lacquer without causing any irritation. It also nourishes and strengthens the nails and moisturize the nail.
Ingredients:
Acetone, Aqua, Fragrance, Propylane Glycol, Drometrizole, Camphor, Q 14700
Packaging:
The product comes in a sturdy plastic bottle which is awesome because I'm a klutz! The cap use a safety design where you have to slightly push it to open which is also great because it prevents leaking problem. The bottle mouth isn't very big so I can avoid letting out too much product.
Produknya berada dalam kemasan botol plastik yang cukup tebal dan kokoh dan cocok banget untuk saya yang agak ceroboh. Tutupnya menggunakan model kemasan "
safety"
dimana tutupnya harus sedikit ditekan dulu baru diputar supaya bisa terbuka (mirip cara buka kemasan obat batuk) dan mulut botolnya tidak terlalu besar jadi penggunaan produknya juga tidak terlalu boros.
How to Use:
Open the lid of the nail polish remover bottle. Take a cotton ball or cotton pad and place it over the opening. Tip the bottle to get some nail polish remover on the cotton ball or pad. Rub the wet cotton ball or pad over your nail. You will need to use some pressure.
Cara menggunakannya cukup standar yah sama seperti menggunakan produk penghapus kuteks lainnya. Cukup dengan menuangkan produk pada kapas lalu usapkan pada kuku. Untuk kuteks yang agak bandel bisa didiamkan beberapa detik lalu dan agak ditekan sedikit.
My Thought:
Like the name, this nail polish has a strawberry scent albeit a very artificial one. It's not a problem for me because at least it's not the usual strong chemical scent from acetone. It removes nail polish well but didn't make my nails rough to the touch. I also didn't feel any irritation or stinging sensation whilst using this product so that means this product is quite gentle to skin. I still have to use quite a lot of products if I wanted to remove glitter nail polish but then again glitter nail polishes are really hard to remove. So if you want an affordable nail remover that works well and gentle on your nail this one is definitely a choice!!
Seperti namanya produk ini memiliki aroma strawberry walau menurut saya aromanya ya seperti aroma buatan gitu tapi menurut saya sih tidak terlalu bermasalah selama wanginya tidak seperti wangi
acetone
yang cukup kencang dan bikin pusing. Produk ini mampu menghapus kuteks dengan cukup baik dan tidak membuat kuku saya kasar, terkadang produk yang agak keras membuat kulit saya iritasi dan sedikit perih namun si Elianto Nail Remover ini cukup
gentle
di kulit dan kuku saya. Cuman memang agak susah ya kalau untuk digunakan menghapus kuteks yang ber-
glitter
tapi untuk kuteks model begini sih juga agak susah walau menggunakan
acetone
juga. Jadi kalau kamu sedang mencari produk penghapus kuteks yang terjangkau dan
gentle
di kulit mungkin bisa mencoba produk ini.
Works well / Berfungsi dengan baik
Gentle on skin and nails / Ringan di kulit dan kuku
Add me on your list ^^
Reposted from my old blog http://hanaiyzm.blogspot.com before it was hack
Repost dari blog http://hanaiyzm.blogspot.com sebelum di
retas