This is one of my favorite lip balm and I've been stocking it whenever I can although now my favorite online seller didn't accept pre order to Cherry Culture again so I think I'm gonna have to look for a replacement soon after my lip balms are gone. I've already review it once on Chocolate flavor but now I'm gonna share a review on other flavor which is Grape, Lime, Peach, Banana and Raspberry.
Ini adalah salah satu lip balm favorit saya dan sebisa mungkin saya selalu nyetok walaupun sekarang sepertinya agak susah karena ol shop langganan saya sudah tidak terima pre order ke Cherry Culture lagi. Sebelumnya saya sudah pernah mereview lip balm ini untuk yang varian Chocolate tapi sekarang saya mau review varian-varian lainnya yaitu Grape, Lime, Peach, Banana dan Raspberry.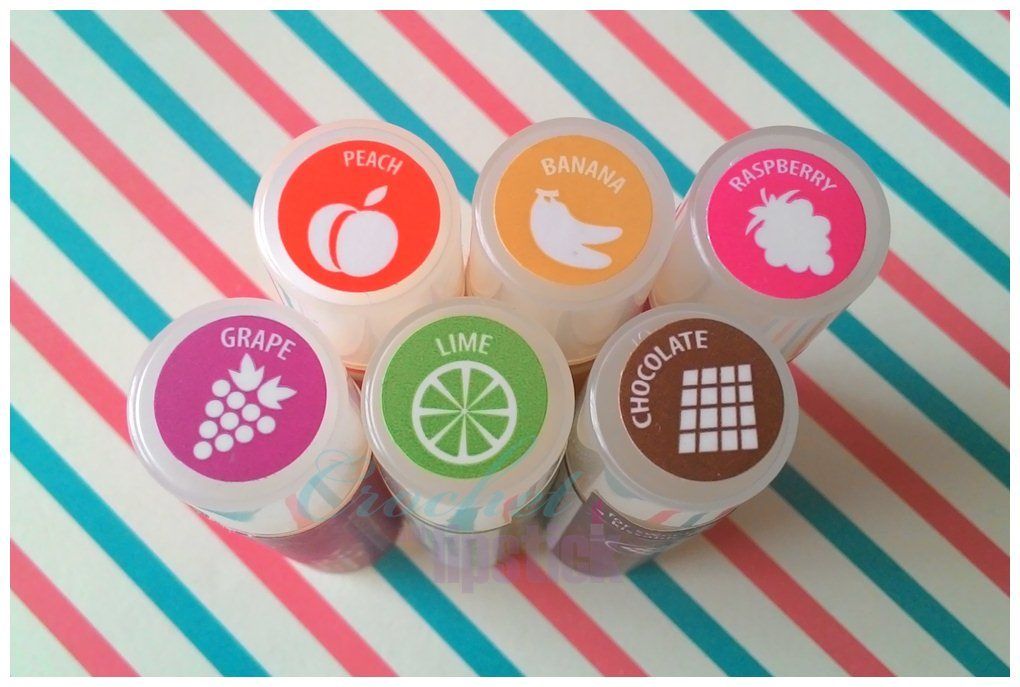 Descriptio

n

:
This lip balm suppose to hydrates, nourish and protects your lips. It is a lip treatment for natural and luscious lips.
Lip balm ini mampu melindungi, menutrisi dan menghidrasi bibir dan merupakan produk perawatan untuk bibir yang cantik dan sehat.
Pac

kaging

:
I use to think that the packaging looks cheap but now I think they are cute!! I especially like the flavor icon on top of the cap. There's no plastic seal around the lip balm but there's a label seal joining the bullet and the cap so you'll know it's never been touch before.
Dulunya menurut saya kemasan dari lip balm Cherry Culture ini terlihat murah tapi sekarang menurut saya sangat cute!! Saya suka warna-warnanya yang gonjreng dan logo buah untuk setiap varian rasa di tutupnya. Lip balm ini tidak dibungkus segel plastik tapi ada segel label yang menghubungkan antara lip balm dan tutupnya jadi kita tetap bisa tahu kalau produknya itu fresh dan belum pernah dibuka.
Petrolatum, Mineral Oil, Polybutene, Ozokerite, Ceresin, Hydrogenated Vegetable Oil, Cera Alba, Stearic Acid, Stearyl Stearate, Bis-Diglyceryl, Polyacyladipate-2, Euphorbia Cerifera, Wax, Perfume, Tocopheryl Acetate, Phenoxyethanol.
All the lip balms has slightly glossy translucent white color and it doesn't give off any color when I apply the lip balm on my lips although it does look slightly shiny. Since it took a while to absorbs nicely I usually put it on first before I prepped any make up on if I wanted to use lipstick otherwise the lipstick won't adhere well on my lips. But... If I wanted to put on a lip tint, I apply lip tint first then I use this lip balm for a dash of sheen and moisturize my lips.
If you like scented products you'll gonna like this lip balm because each variants has a lovely scent and for me my favorite one is chocolate. Cos... who doesn't like chocolate right!! As for the taste all of them has a slightly sweet taste to it but not overwhelming.
Aside from using it during the day I usually use a lot of it before bed (I called it a sleeping lip mask #LOL) and then I'll wake up with luscious moisturize lips!! Using a lot of lip balm before bed is also good if you wanted to scrub your lips in the morning because it will be easier to shed those dead skin cell.
Semua lip balm memiliki warna putih transparan yang sama dan tidak memberikan warna pada bibir saat digunakan namun ada sedikit glossy finish setelahnya. Karena dia menyerap agak cukup lama biasanya sebelum prepping skin care maupun makeup tahap awalnya saya menggunakan lip balm ini dulu supaya bibir bisa lebih lembab karena kalau langsung menggunakan lipstick setelah lip balm ini biasanya nanti lipsticknya tidak akan menempel dengan baik. Tapi untuk lip tint kasusnya agak berbeda, saya gunakan lip tint dulu, tunggu sampai lip tintnya ngeset lalu saya oleskan lip balm supaya bibir tidak kering dan ada sedikit glossy look dari lip balm-nya.
Kalau kamu suka produk-produk yang ada wewangian kamu bakalan suka sama lip balm ini karena wanginya persis seperti jenis variannya. Favorit saya sih udah jelas yang Chocolate karena siapa sih yang gak suka coklat!! Untuk rasanya setiap lip balm ada sedikit rasa manis namun tidak berlebihan.
Selain digunakan di pagi dan siang hari saya juga paling suka menggunakan lip balm yang cukup tebal sebelum tidur (Biasa saya sebut dengan sleeping lip mask #LOL) dan akan bangun dengan bibir yang sangat lembut dan lembab. Kalau kamu suka pakai Lipstick Matte bisa cobain deh pakai lip balm yang banyak sebelum tidur dan besoknya saat mau lip scrub serl kulit matinya akan lebih cepat luruh.
- affordable | terjangkau
- moisturizing | melembabkan
- nice scent | wanginya enak
Note:
I usually bought mine by pre-ordering it via
27 Shop
but she doesn't accept pre-order to Cherry Culture again so if you know any shop that accept pre order to Cherry Culture do inform me okay! ^^
Add me on your list ^^
or maybe visit my Shop
Reposted from my old blog http://hanaiyzm.blogspot.com before it was hack
Repost dari blog http://hanaiyzm.blogspot.com sebelum di hack