Hello....
Had a nice weekend yet? Well I hope you do. Today's review is about a Thailand Skincare product that's quite famous over there. It's been endorsed highly by one of Thailand's biggest celebrity Aum Patchrapa (just Google her). Let's see the product shall we??
Apakah weekend kamu menyenangkan? Saya harap cukup menyenangkan ya... Review hari ini tentang salah satu produk skincare Thailand yang cukup populer disana. Produk ini juga sangat diendorse oleh salah satu selebriti paling terkenal di Thailand Aum Patchrapa (tanya mbah Google aja ya). Langsung ke bendanya aja yuk!!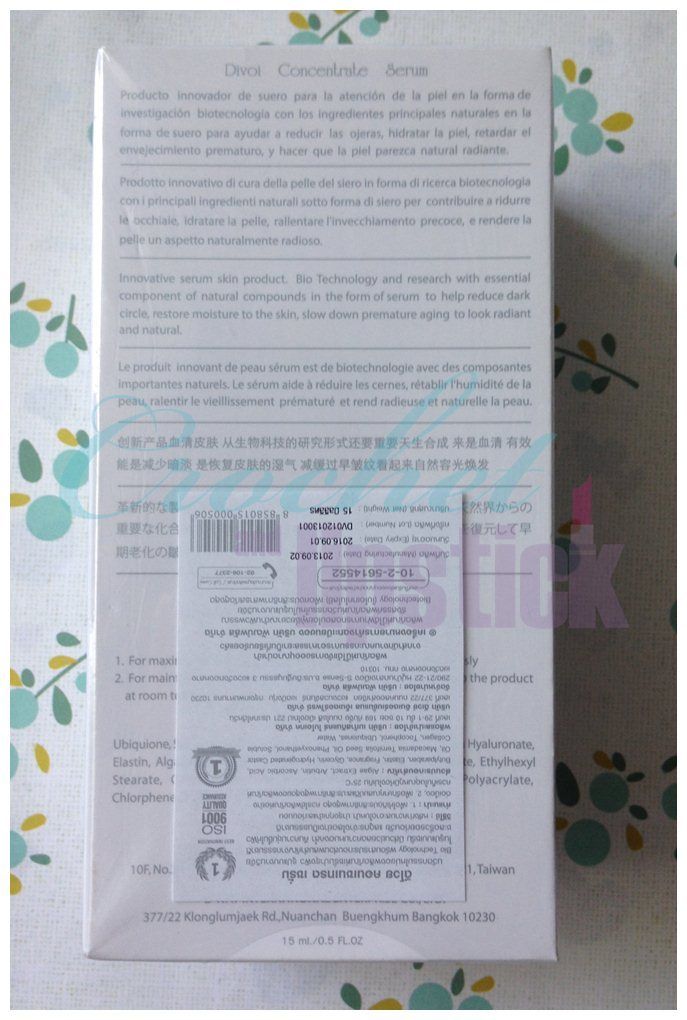 Innovative serum skin product. Bio technology and research with essential component of natural compounds in the form of serum to help reduce dark circle, restore moisture to the skin, slow down premature aging to look radiant and natural.
Produk serum kulit inovatif. Kombinasi penelitian dan bioteknologi terhadap senyawa alami menghasilkan produk berupa serum yang dapat membantu mengurangi noda hitam, mengembalikan kelembaban pada kulit, mengurangi penuaan dini dan menjadikan kulit tampak berseri-seri.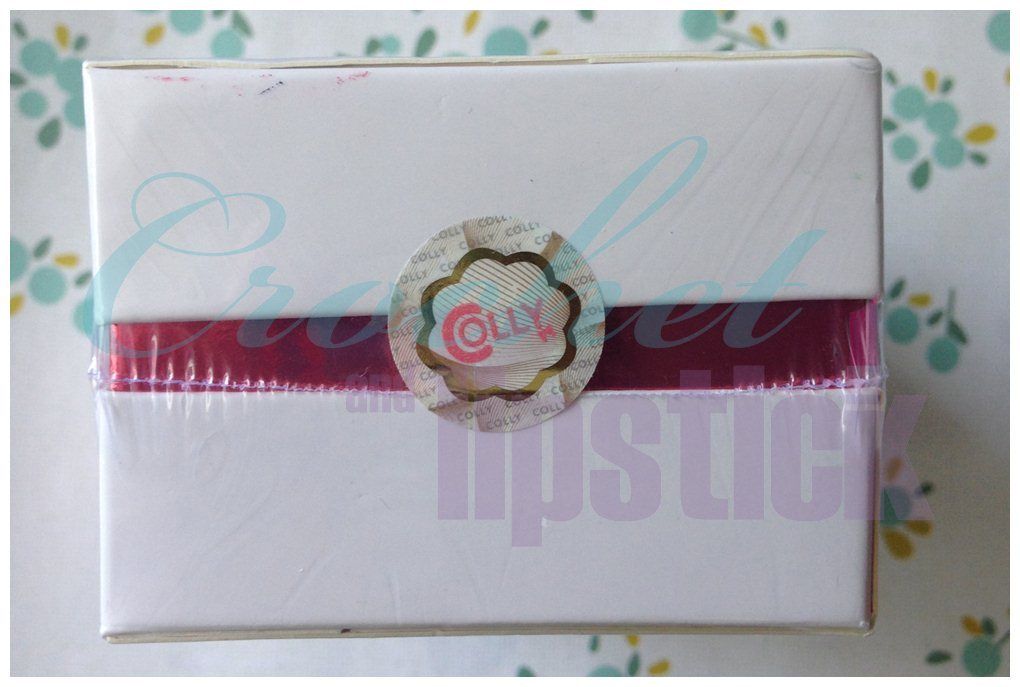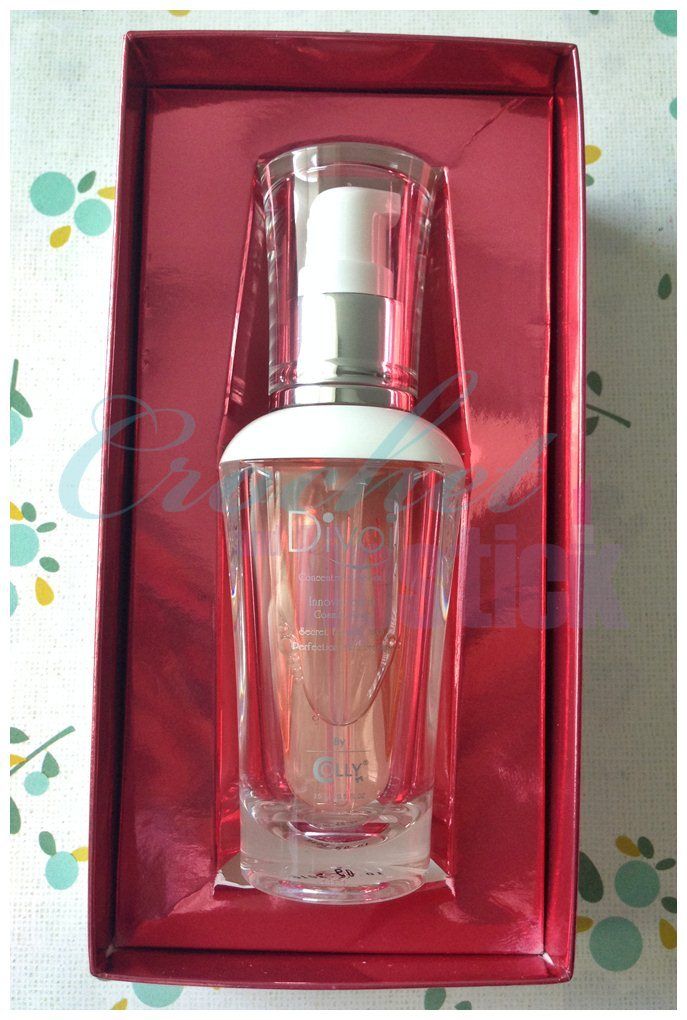 Packaging
It comes in a luxurious box and at first I thought the bottle is made from glass but it's actually made from acrylic which is good because I'm very clumsy and might actually drop the bottle he he he... The bottle is transparent so you'll know how much product inside. The cap is pretty tight so when I carry it for traveling it won't spill.
Serumnya ada dalam kemasan boks yang cukup mewah dan pada awalnya saya kira botolnya terbuat dari kaca tapi ternyata dari akrilik. Kalau menurut saya sih hal ini malah bagus soalnya saya orangnya agak ceroboh, jadi kalau kesenggol dan jatuh kan aman deh serumnya he he he... Botolnya transparan jadi bisa kelihatan sudah seberapa banyak kita menggunakan produknya. Selain itu tutupnya juga cukup kencang, jadi kalau dibawa bepergian juga aman.
You can read the full ingredients above but the main ingredients are:
Ubiquinone (CoQ10) and Sodium Hyaluronate enhances the function of skin cells and has anti-aging and anti oxidant benefits.
Salmon Egg Extract can stimulates collagen formation and eliminate wrinkles.
Potassium DNA stimulates skin cells and slows premature aging.
Natto Gum stimulates blood circulation, helps skin moisturized and eliminate free radicals.
Algae Extract helps moisturizes skin longer and minimize pores.
Bahan-bahan lengkapnya bisa dibaca di atas ya, sedangkan bahan utamanya terdiri dari:
Ubiquinone (CoQ10) dan Sodium Hyaluronate meningkatkan fungsi sel-sel kulit serta memiliki manfaat anti penuaan dan anti oksidan.
Ekstrak Telur Salmon mampu merangsang formasi kolagen dan mengurangi kerutan.
Potassium DNA menstimulasi sel-sel kulit dan memperlambat penuaan dini.
Natto Gum menstimulasi sirkulasi darah, membantu melembabkan kulit dan melawan radikal bebas.
Ekstrak Alga membantu menjaga kulit lembab lebih lama dan mengecilkan pori-pori.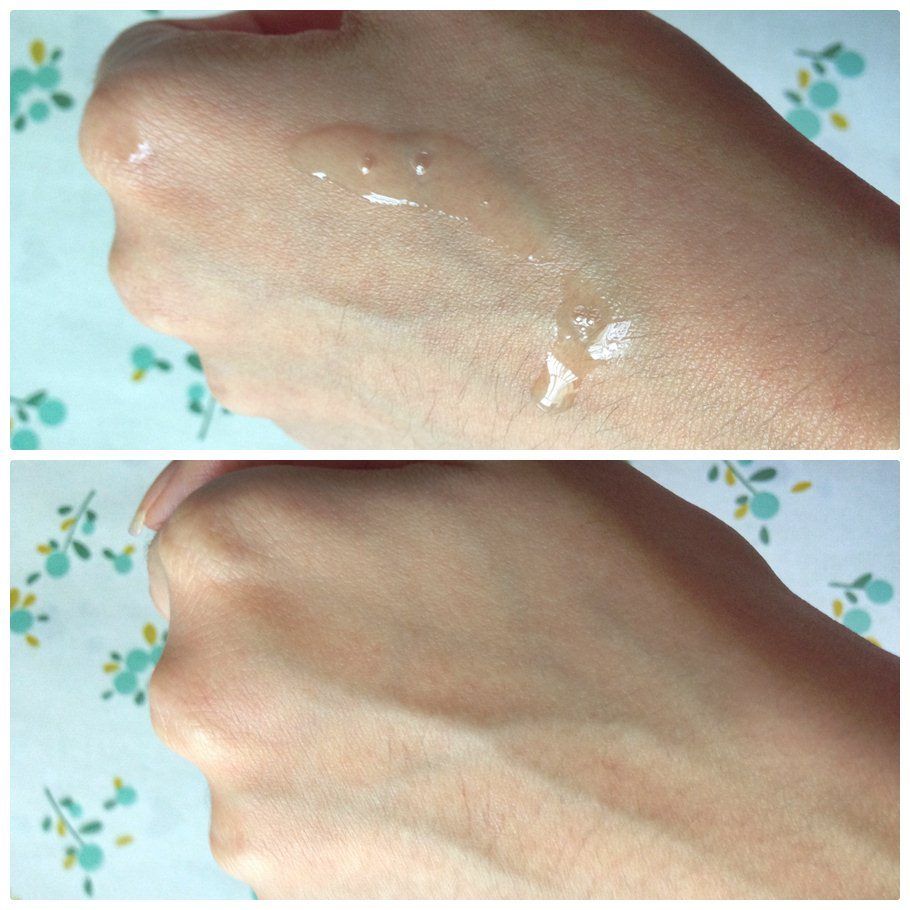 Divoi serum has a very runny consistency, smells nice and absorbs really fast. I use it twice a day in the morning and evening after I cleanse my face and before I use moisturizer/night cream. The way I use it is by rubbing it on my palm and pat my face lightly until the serum absorbs well which took seconds since it's really runny. At first I thought it won't moisturize my skin well because of the consistency but I was wrong. Even if I use it alone without moisture it really moisturize well and heck... I can skip moisturizer and my skin still feels moist throughout the day!! What I also like about this serum is that it makes my skin feels so firm and plump. Oh and one of the ingredients is salmon egg and salmon is also one of the ingredient in omega 3 supplement which I'm allergic to but luckily my skin didn't have any reaction whatsoever toward this serum... Bad reactions I mean...
So if you're looking for a serum that has a lot of anti aging and anti oxidant benefits you might like this serum but you'll have to notice that some people are allergic to salmon or algae and their skin might not agree with this product.
Divoi serum memiliki tekstur yang sangat encer, wangi yang enak dan menyerap dengan sangat cepat. Saya biasa menggunakannya 2 kali sehari pada pagi dan malam hari setelah membersihkan wajah dan sebelum menggunakan pelembab/krim malam. Cara saya menggunakan produk ini adalah dengan diusapkan pada telapak tangan terlebih dahulu kemudian ditepuk-tepuk perlahan ke wajah sampai serum terserap dengan baik. Pada awalnya saya kira produk ini tidak akan terlalu melembabkan karena teksturnya sangat cair namun ternyata saya salah. Meskipun saya hanya menggunakan serum ini dan tanpa pelembab pun ternyata kulit saya masih terasa lembab sepanjang hari loh! Oh ya, yang paling saya suka dari serum ini adalah serum ini membuat kulit saya terasa kenyal dan kencang!! (maklum sudah harus memperhitungkan faktor "U") Selain itu meskipun salah satu kandungannya adalah telur salmon dan salmon merupakan bahan utama dari suplemen omega 3 yang lagi-lagi saya cukup alergi namun untungnya kulit saya tidak kenapa-kenapa he he he...
Jadi apabila kamu mencari serum yang banyak manfaat anti penuaan dan anti oksidannya serum ini bisa menjadi bahan pertimbangan. Cuma lagi-lagi perhatikan lagi ya karena di dalam serum ini juga mengandung ekstrak telur salmon dan ekstrak alga yang terkadang menimbulkan reaksi alergi bagi orang-orang tertentu. Jadi bukan produknya yang salah, mungkin saja kulit kamu yang tidak setuju sama salah satu bahan-bahannya.
Likes:
- makes my skin firm and plump
- absorbs fast
- highly moisturizing
Add me on your list ^^
or maybe visit my Shop