This particular post is long overdue and I probably should've made it sooner because there are a lot of fake products out there that made from GOD knows what and it could be a potential threat to our health. I only bought one fake from a local seller and there are also fakes for Naked 1 and Naked 2. There are other types of Urban Decay and Naked fakes out there but for this post purposes I only make a comparison between the Authentic one that I own and the Fake one that I bought.
Post ini sudah cukup lama bertengger di Draft cuman entah kenapa tidak juga saya publish secepatnya. Padahal sudah sangat banyak kan beredar produk-produk palsu yang entah terbuat dari apa dan berpotensi membahayakan kesehatan dan bahkan nyawa kita. Produk yang saya gunakan sebagai contoh untuk post ini adalah produk palsu yang saya beli dari lokal seller karena saya hanya punya Naked 3 yang asli. Selain Naked 3 yang ini ada juga Naked 1 dan 2 yang palsu beserta produk-produk abal lainnya dengan embel-embel kata "Naked" di judulnya.
The top one is real and the bottom one is fake. I got the real one from winning an International Giveaway (YAYY!!) and I got the fake one from local online shop for only IDR 35,000 (about USD 2,6)!!! I mean the real Urban Decay Naked 3 Palette retail price is USD 54 (from their web) or about IDR 729,000!! From the price alone surely you'll know that there's something wrong right?!?!
The real UD Naked 3 has bigger box because there's a small Eyeshadow Primer sample bonus inside (IDK if there are one sold without the primer bonus or not) and the box color is also different. The lettering design is very similar though.
Yang atas adalah Naked 3 asli dan yang bawahnya itu palsu. Saya mendapatkan Naked 3 asli dari International Giveaway (YAYY!!) dan yang palsunya itu saya beli di online shop lokal seharga IDR 35,000!!! Bayangin aja Urban Decay Naked 3 yang asli itu harganya USD 54 (dari official site) atau sekitar IDR 729,000 (belum termasuk cukai dll)!! Dari perbedaan harga yang fantastis ini udah kelihatan kan kalau ada yang aneh?!?!?
Kemasan UD Naked 3 yang asli sedikit lebih besar karena di dalamnya ada bonus sampel Eyeshadow Primer (saya tidak tahu kalau ada UD Naked 3 palsu yang dijual dengan bonus sampel primer atau tidak) dan warna kotaknya juga berbeda walaupun desain huruf diantara keduanya sangat mirip.
Top: Real ~ Bottom: Fake
Both real and fake one a description one the back and they are pretty much the same from word to word and the only difference is the graphic on each box.
Yang palsu dan yang asli memiliki deskripsi produk yang sama persis di bagian belakangnya dan yang membedakan hanya gambarnya saja.
The real one has a detailed ingredients list on the side while the fake one only has a description on where the product is made and assemble which probably not true anyway.
Both palettes has a very similar design and lettering, the size is also pretty much the same. If I didn't own a real UD Naked 3 I probably won't know the difference. The only difference is only the color, the real one is rose gold and the fake one is bronze? Ggah I'm bad at describing this.... I upload it once on my IG and most people answer that the bottom one is the fake on.
Kedua palet memiliki desain kemasan dan huruf yang cukup mirip, bahkan ukurannya juga cukup sama. Kalau saya tidak punya produk aslinya mungkin saya juga tidak akan tahu bedanya kalau hanya melihat dari bentuk kemasan paletnya saja. Tapi kalau dilihat dari warnanya, yang palsu dan yang asli cukup terlihat ya perbedaannya? Yang asli warnanya rose gold dan yang palsu warnanya cenderung bronze?? Ahh saya paling susah nih kalau mendeskripsikan warna... BTW sebelumnya saya pernah upload UD Naked 3 yang asli dan palsu di akun IG saya dan sebagian besar yang komen menjawab dengan benar loh!!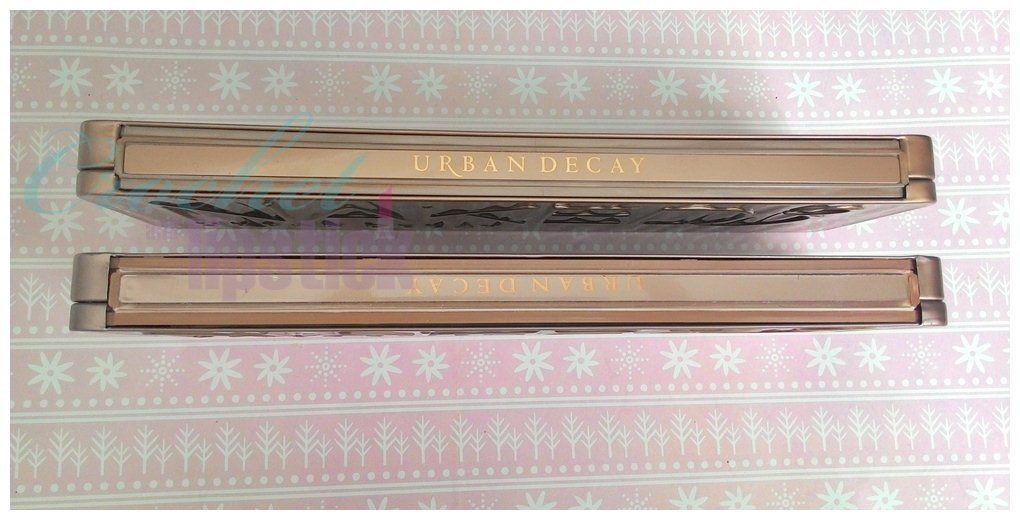 Top: Real ~ Bottom: Fake
The real one has a brighter font and the fake one isn't very prominent.
Dari samping yang asli memiliki huruf dengan warna yang lebih terang dan yang palsu warnanya kurang terang dan jelas.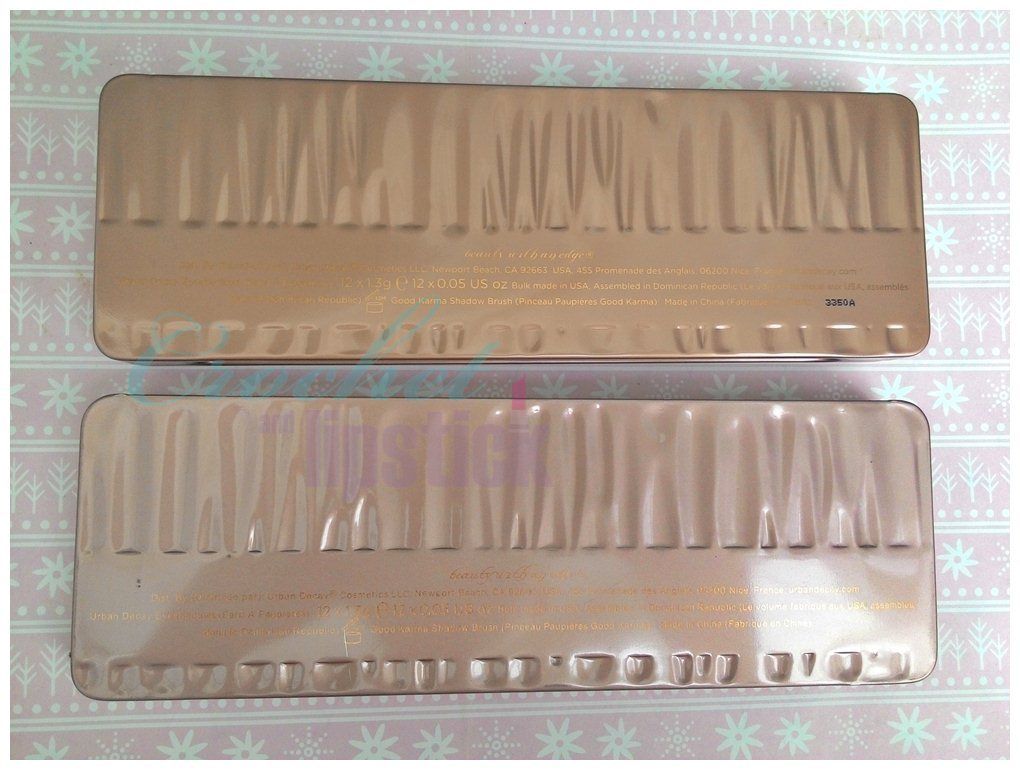 Top: Real ~ Bottom: Fake
Top: Real ~ Bottom: Fake
Aside from the color both is pretty much the same and the only difference is the real one has a serial number (IDK if it's a serial number or not though) printed on the back and the fake one doesn't.
Selain dari warnanya yang berbeda, bagian belakang dari kedua palet terlihat cukup sama namun yang asli memiliki nomor seri dan yang palsu tidak. Walaupun mungkin nanti bisa saja yang palsu juga memiliki nomor seri.
Top: Real ~ Bottom: Fake
Left: Real ~ Right: Fake
Both palettes comes with a double ended eye brush. IDK about the other brushes that comes with an Urban Decay Naked Palette but the fake one comes in a dual fiber type brushes and the brush is surprisingly quite soft.
Kedua palet memiliki kuas dua sisi dan yang palsu kuasnya itu bertipe duo fiber dan cukup lembut dan halus juga loh!! Mungkin nanti kuasnya mau saya simpan.
Top: Real ~ Bottom: Fake
Top: Real ~ Bottom: Fake
Top: Real ~ Bottom: Fake
If you already know how UD Naked 3 color range is suppose to look like then you'll notice that the fake has a very different color from the real one. Even if you don't own one you can look the color on their website

and it's really different.
Kalau kamu sebelumnya sudah tahu warna dari UD Naked 3 itu seperti apa saya rasa kamu pasti akan langsung menyadari kalau yang palsu itu warnanya jelas-jelas berbeda ya? Meskipun seandainya kamu belum tahu warna dari UD Naked 3 itu seperti apa, kamu bisa melihat warnanya di website resminya dan memang sangat berbeda.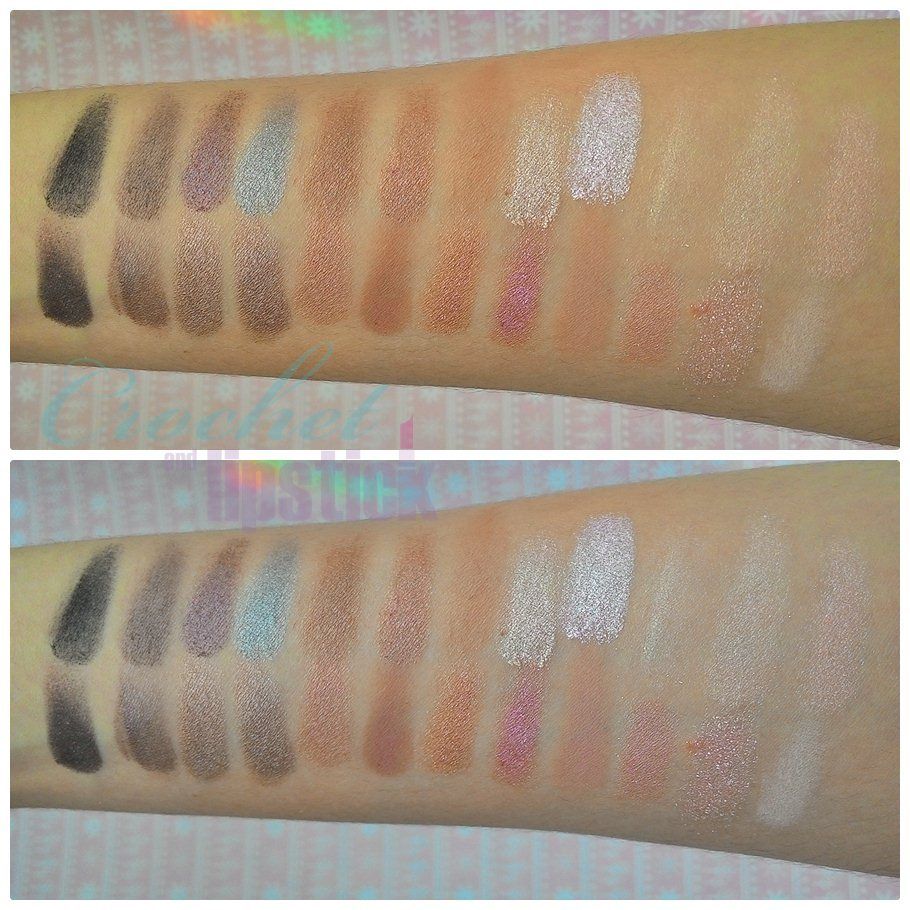 Top: Real ~ Bottom: Fake
(Under different light)
Swatches
The real one has rose-hued neutrals color range from pale, shimmery pink to deep black matte while the fake one has a very different range of color.
Yang asli memiliki tone rose netral mulai dari warna yang muda, shimery pink sampai matte yang hitam pekat sedangkan yang palsu memiliki tone yang sangat berbeda.
Aside from the UD Naked 1, 2 and 3 I've also seen until Naked 5 Palette even though from there's no Naked 4 and 5 in Urban Decay Official Site. Not only Fake Naked Palettes there are other fake "Naked" products out there like Naked Mascara, Naked Lipstick and Naked Eyeliner.
Here's some tips from me:
If it's too good to be true then it really is to good to be true!! Even if it's preloved I don't think there will be an Authentic Urban Decay Naked Palette for only IDR 35,000!!!

Check Urban Decay Official Site!! If they don't have a Naked 4, 5, 6 or even Naked 12 Palettes then the Naked 9 Palette that you saw is definitely a FAKE!!

Compare the color and packaging with the Official Site again. For example I saw an online seller selling a "Naked" Mascara, I know there are Urban Decay Mascaras but from their website there are no "Naked" Mascara from their Naked Range so I know that the mascara from that online seller is a fake.
Berikut sedikit tips belanja online dari saya:
Kalau menurut kamu harganya terlalu fantastis untuk jadi kenyataan berarti memang barang itu memang terlalu fantastis untuk jadi kenyataan. Walaupun itu preloved menurut saya mana ada orang yang rela menjual Urban Decay Naked Palette asli yang dulu dia beli ratusan ribu menjadi 35 ribu aja!!

Rajin-rajin lihat website resmi dari barang yang mau kamu beli. Kalau di websitenya Urban Decay aja belum ada palet Naked 4, 5, 6 atau Naked 12 maka sudah pasti palet Naked 9 yang kamu lihar di online shop itu PALSU!!

Rajin-rajin juga melihat range warna produk dan kemasan di situs resminya. Misalnya nih.. Saya pernah lihat seller yang jual maskara "Naked" dan memang di situs resminya Urban Decay itu menjual maskara. Tapi masalahnya tidak ada maskara "Naked" dari seri Naked mereka jadi sudah jelas lah bahwa maskara yang dijual itu produk abal-abal.
Just a Reminder
I know those fake cosmetics are cheap and tempting but they are made from dubious and I definitely won't risk my health and life to have some sort of "branded" makeup when there are plenty of other affordable makeup out there that is safe.
Saya tahu produk-produk yang tidak jelas itu memang menggoda apalagi dijual dengan harga yang murah. Tapi itu dibuat dengan bahan-bahan yang meragukan dan saya pastinya tidak akan merelakan kesehatan saya diuji coba demi makeup "branded" yang tidak jelas padahal masih banyak produk-produk makeup dengan harga terjangkau yang aman.
or maybe visit my Circle Lens Shop
Re-posted from my old blog http://hanaiyzm.blogspot.com before it was hack
Repost dari blog http://hanaiyzm.blogspot.com sebelum di hack