Who's a blush person? I personally think that blusher is on one of my make up must-have. Why? Well my skin is quite pale and blusher is a great way to make me look fresh and more "alive". So.... Today's post will be about 3 new lovely blusher that I have.
Siapa yang doyan pakai blush-on? Kalau meenurut saya sendiri blush-on ini adalah salah satu makeup "wajib" saya. Kenapa? Karena saya merasa kalau kulit saya itu cenderung pucat jadi dengan adanya blush-on dapat membuat saya terlihat lebih segar dan "hidup". Nah... Kali ini saya mau share soal 3 blush-on baru saya...
Makeup Store Blush - Sugar Pink
This is my blusher-of-the-month cos I find myself grabbing this baby whenever I reach for a blusher. I love how the packaging is transparent on the top so I can see the color inside. Its shade is more of a orangey-pink color which is perfect for me because I prefer a peach or coral rather than pink although lately I've been into pink too he he he.... It is really really pigmented so I recommend to use a light tap before putting the blusher on your cheek or you can also use a duo-fibre brush (My favorite is the Real Techniques Stippling Brush).
It has a slight shimmer to it so if you want a glowy look for everyday look then this blusher is for you. As for the texture I find it really soft and very easy to blend. One slight issue that I have with this blusher is that I find that the hinge on this blusher is quite flimsy and loose. I once took it by the top cap and it fell!!! Luckily it fell on my bed so it didn't crack, but my heart does skip a bit there.
Overall aside from the hinge issue I found that this blusher is really lovely and definitely one of the shade that you should have in your makeup stash. But... If you want to take it for travelling I recommend that you taped it so that it won't accidentally open.
Ini adalah salah satu blusher-bulan-ini versi saya karena akhir-akhir ini setiap kali dandan tangan saya selalu meraih benda cantik ini. Tutup depan packagingnya transparan jadi saya tidak perlu membuka-buka untuk tahu isinya warna yang mana. Shade dari blush on ini cenderung ke arah orange-pink yang menurut saya cantik banget karena saya sendiri memang lebih suka blush-on yang berwarna peach atau cora;, walaupun akhir-akhir doyan warna pink juga sih he he he..... Blush-on ini amat sangat pigmented saudara-saudara jadi pakainya harus hati-hati kalau gak mau kelihatan kayak habis ditampar. Saran saya sih sebaiknya tap dulu kuas lenongnya sebelum dipulas ke pipi atau bisa juga menggunakan kuas Duo-Fibre (Favorite saya adalah Real Techniques Stippling Brush).
Blush on ini ada sedikit shimmernya ya jadi untuk yang suka dengan glowy look untuk penampakannya setiap hari boleh banget deh mencoba benda ini. Untuk tekstunya menurut saya sangat lembut dan gampang dibaurkan. Cuman... Satu masalahnya... Engselnya ringkih banget!! Pada suatu saya memungut si blush-on ini hanya pada bagian tutup atasnya saja dan dia JATUH! Untungnya jatuh ke kasur jadi enggak buyar kemana-mana isinya tapi lumayan bikin saya deg-degan.
Overall selain dari ringkihnys engsel menurut saya blush-on oke banget dan wajib jadi salah satu koleksi makeup. Tapi... Kalau mau dibawa-bawa travelling mungkin sebaiknya diselotip dulu kali ya biar aman.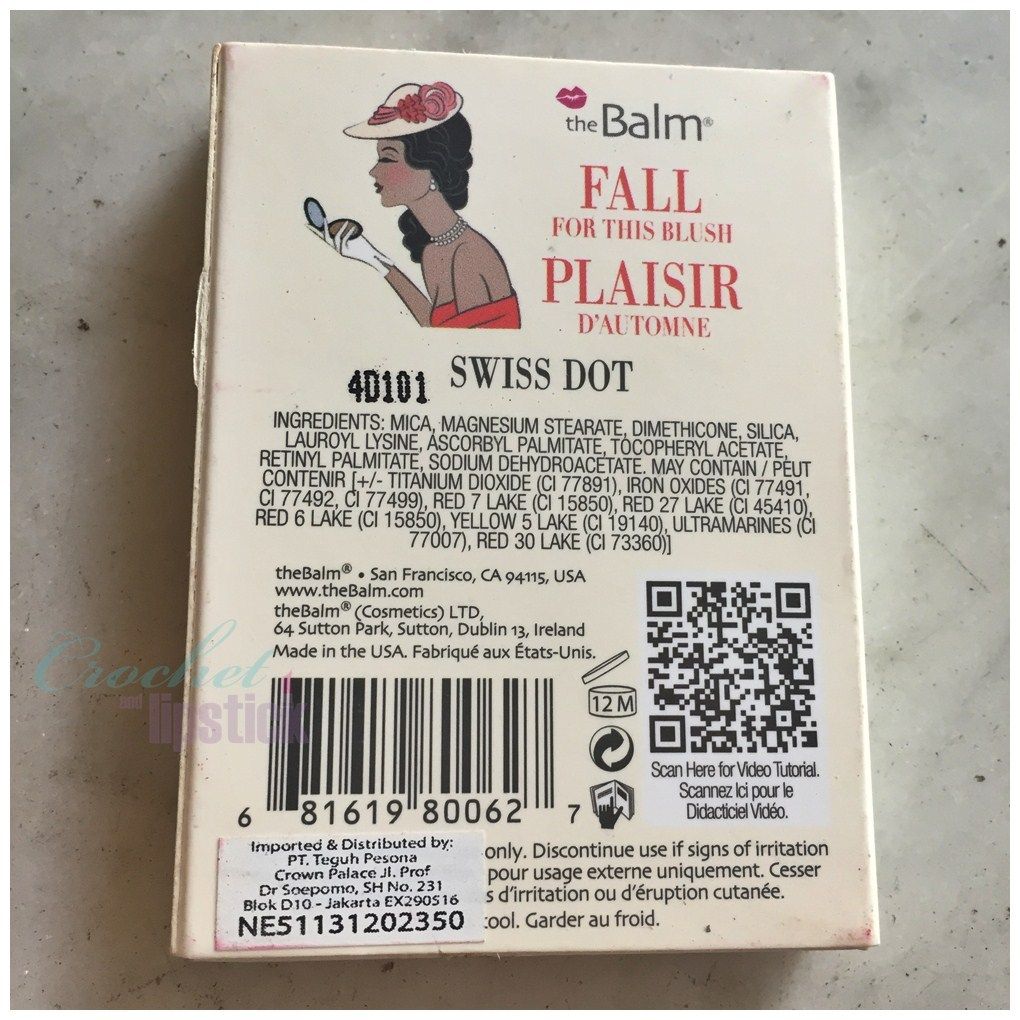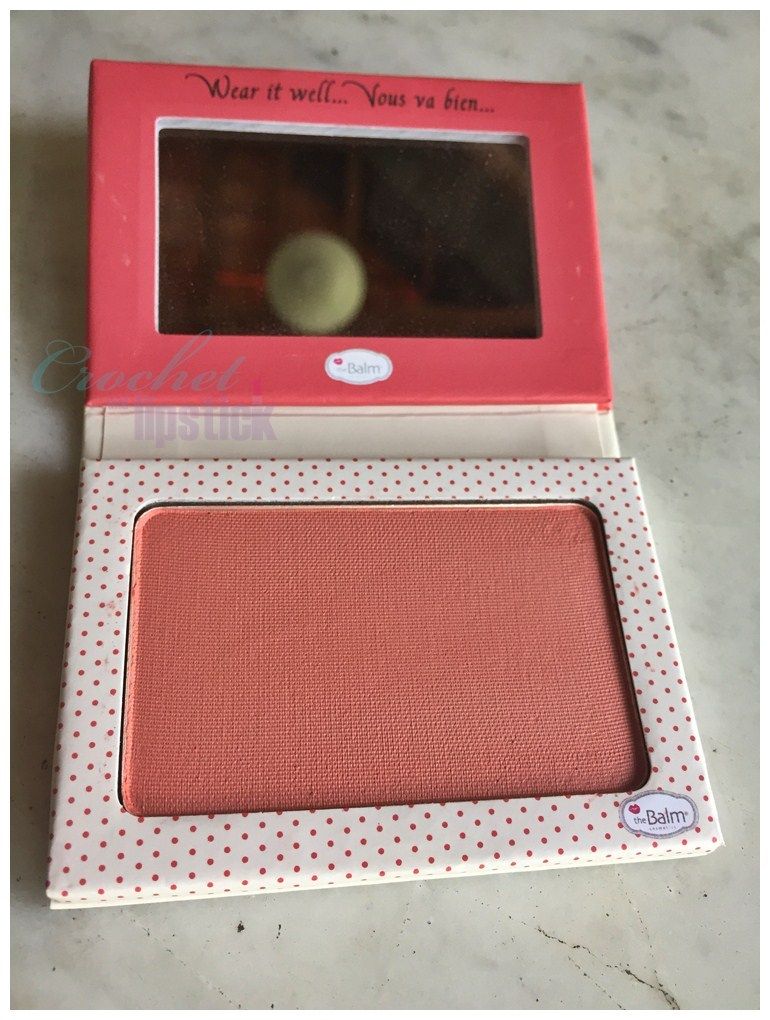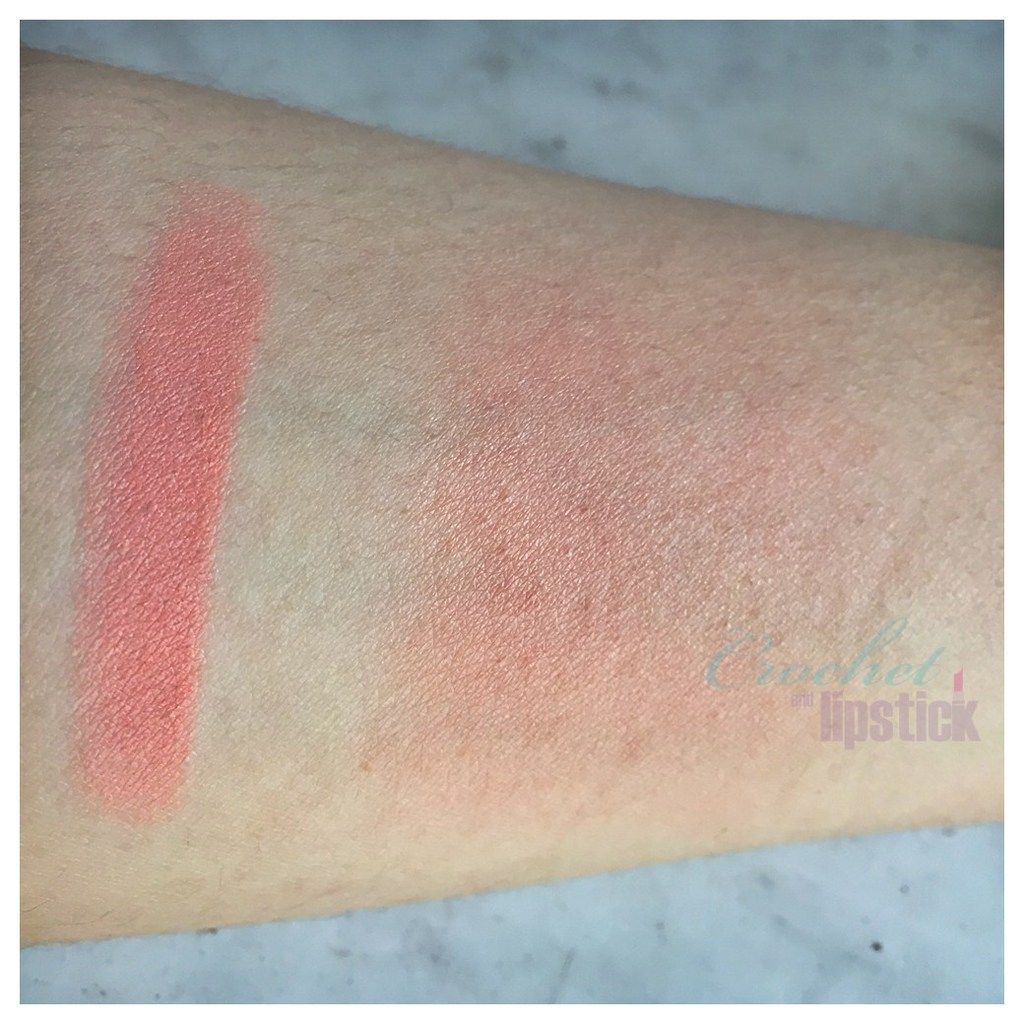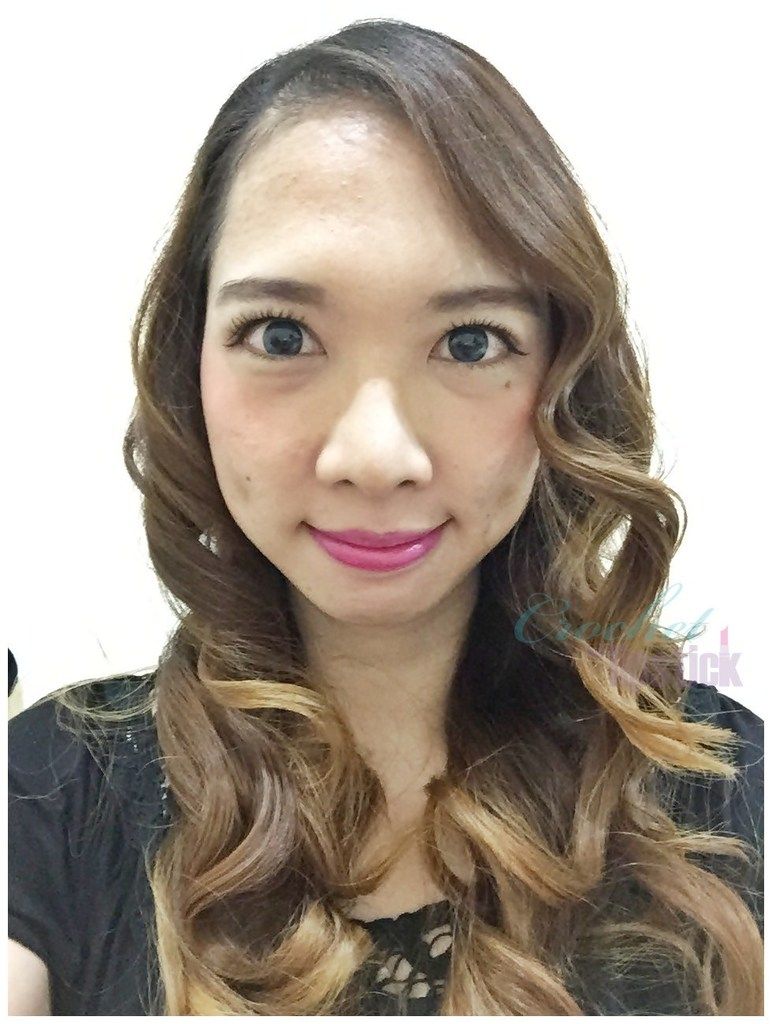 The Balm Instain - Swiss Dot
Finally I have The Balm products!!! I've been wanting to try it and finally be able to try the infamous The Balm Instain! Most of their product has the cutest vintage theme ever and this one is not an exception. I love the old hollywood theme to it. The blusher has a mirror inside and it's quite big too so it's convenient. The color is a lovely shimmery peach and highly pigmented. So once again I recommend that you use a light tap with this blusher. The texture is quite buttery and powdery at the same time and I have to be careful not to pickup too much products in each swipe. What I like to do with this blusher is I pat the blusher once using Real Techniques Stipling Brush, pick a point on my cheek, tap once and blend them outward.
Akhirnya saya punya produk The Balm juga! Sudah lama kepingin punya dan akhirnya berhasil juga nyobain The Balm Instain yang tersohor indang!! Menurut saya semua produk The Balm packagingnya lucu pake bangett!! Saya suka banget tema-tema vintage ala-ala old Hollywood seperti ini. Blush-on ini juga ada kaca di yang berukuran "lumayan" menurut saya, cukup lah buat ngaca sambil nemplokin blush-on. Warnanya adalah warna blush-on favorit saya yaitu peach dengan sedikt shimmer. Selain cantik pake banget blush-on ini juga sangat pigmented jadi kalau mau pakai wajib pelan-pelan gak pake heboh. Teksturnya itu buttery.. hmm gimana ya jelasinnya.. pokoknya lembut-lembut mirip mentega gitu #LOL dan powdery juga disaat yang sama jadi saya memang agak hati-hati juga supaya ngambilnya tidak kebanyakan dan berbubuk kemana-mana. Cara yang biasa saya lakukan adalah saya tepuk sekali si blush-on dengan Real Techniques Stippling Brush, pilih titik pada pipi yang ingin dipercantik lalu baurkan ke arah luar.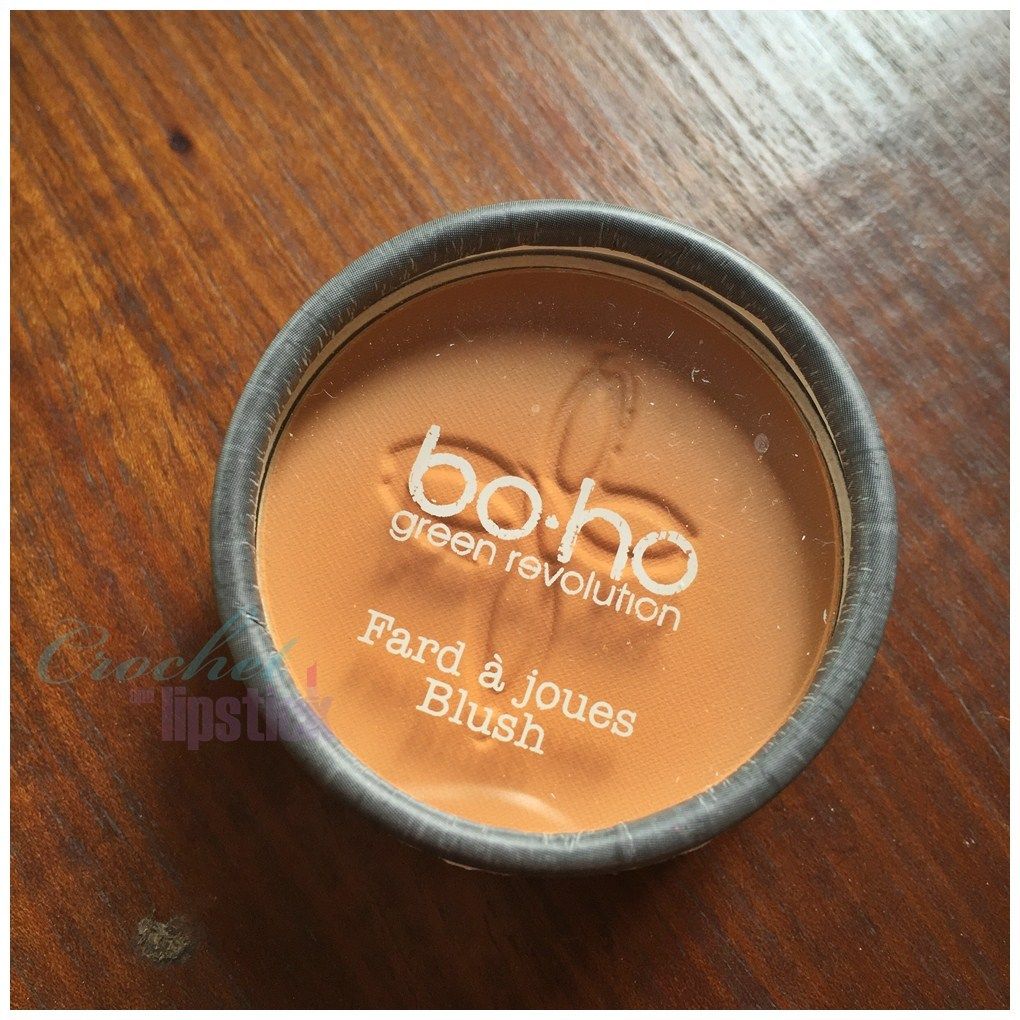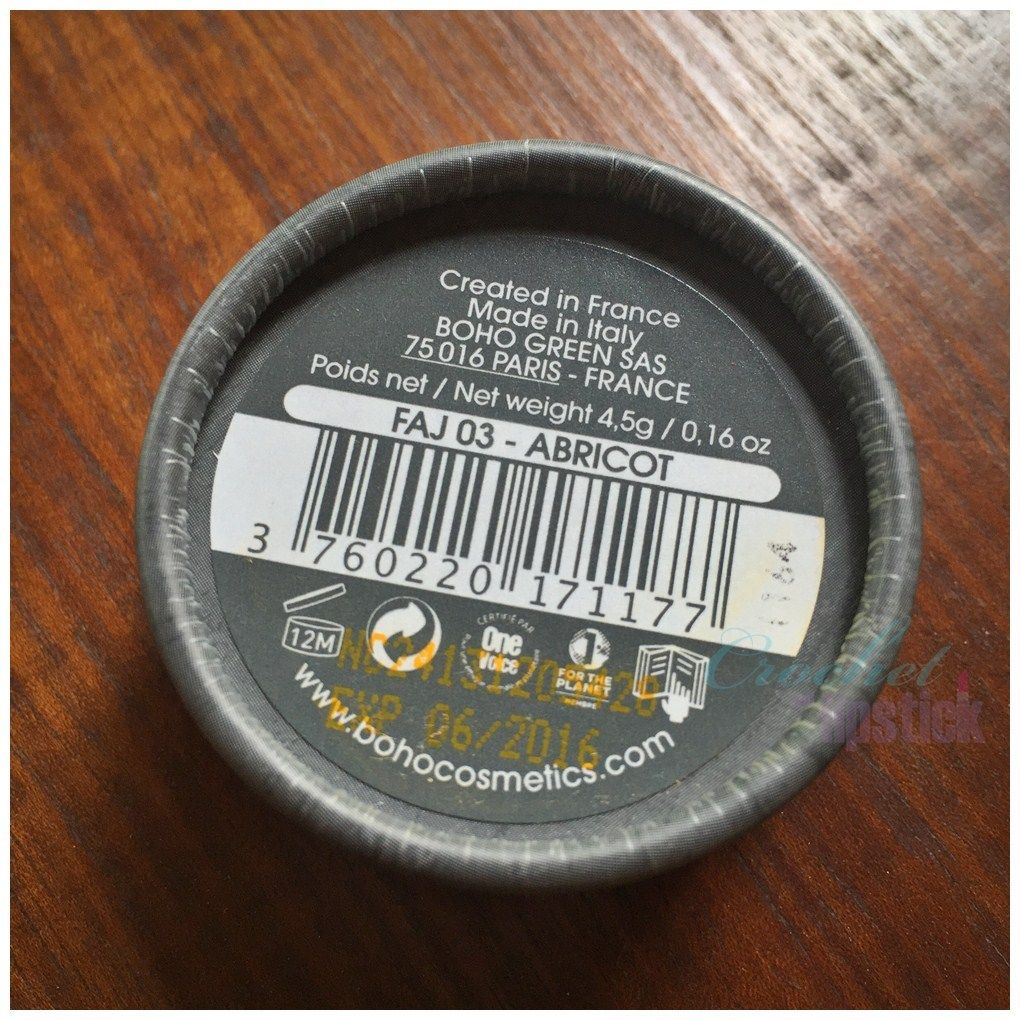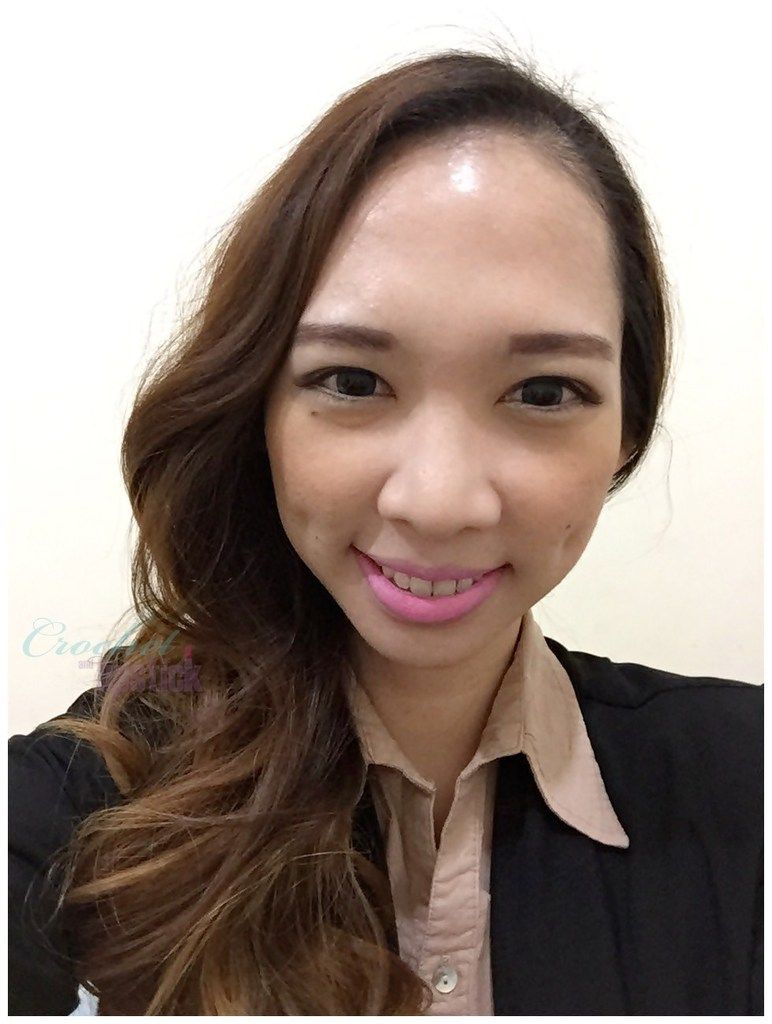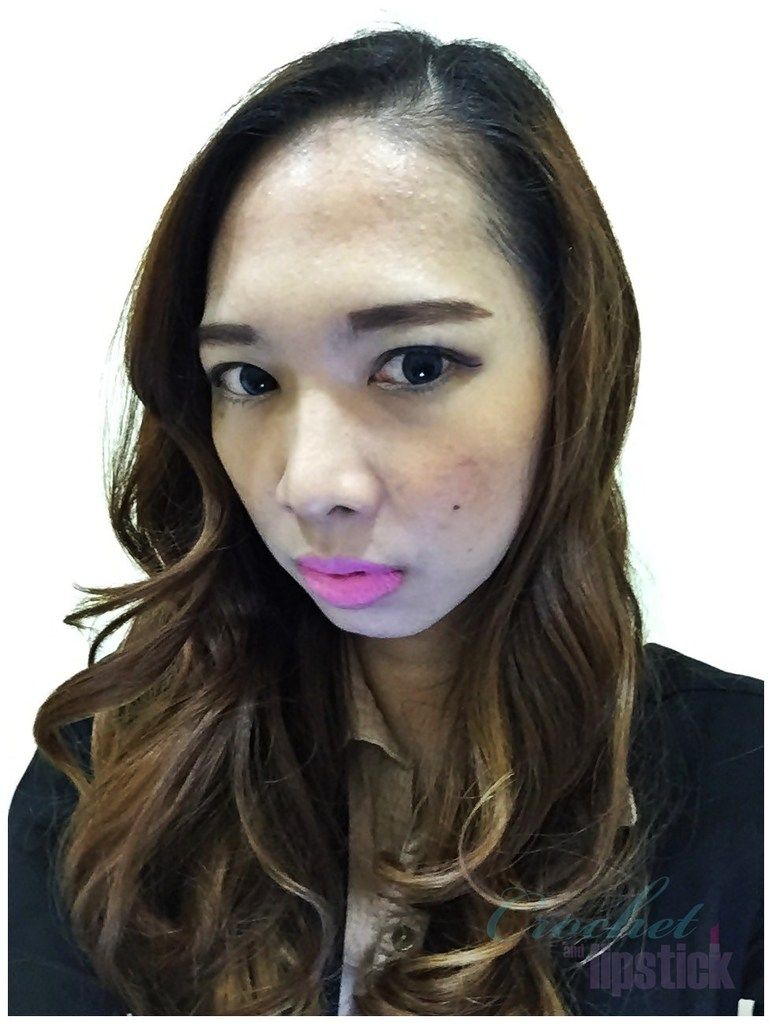 Boho Blush - Abricot
I have an orange blusher before but it's more of a light orange and this one is more of a brown-orange with a yellow undertone and the finish results is matte. The texture is soft and powdery so I have to be careful. I think this will be perfect for someone who wants the "no makeup" makeup look. It doesn't look that obvious on my skin so I have to use it multiple times and for me this blusher fits more as a bronzer to give my skin more "color". Oh and I use it as an eye shadow too!!
As for the packaging I think Boho is a Brand that focuses on "green" and it really shows. This blushes packaging is made from cardboard and the platick is completely recyclable (at least that's what they claim). The lids are pretty tight but for travelling I recommend you put it in a ziplock bag just in case there's something spilled inside. I myself always put my makeup and toiletry in a separate ziplock bag when travelling to reduce spillage issues.
Saya pernah punya blush-on orange sebelumnya tapi warnanya lebih ke orange muda sedangkan yang ini lebih ke coklat-orange dengan yellow undertone dan hasil akhir yang matte. Teksturnya lembut dan powdery jadi harus hati-hati supaya produknya tidak berbubuk kemana-mana. Menurut saya blush-on ini akan cocok untuk kamu yang suka dengan "no makeup" makeup look. Berhubung blush ini warnanya kurang "nongol" di kulit saya butuh beberapa ulasan supaya saya "terlihat" memakai produknya. Saya sih lebih suka menggunakan Boho Abricot ini hampir seperti bronzer untuk memberi kulit saya yang lumayan pucat ini "warna". Oh ya blush-on ini juga cantik loh kalau digunakan sebagai eye shadow!!
Sedangkan untuk packaging-nya sepertinya Boho ini adalah Brand yang fokus dengan segala sesuatu yang "green" ya. Kemasan blush-on ini terbuat dari karton tebal dan plastik yang bisa di daur ulang seluruhnya (setidaknya itulah yang diklaim sama Boho). Tutupnya cukup kencang tapi kalau untuk dibawa travelling saya sarankan untuk membungkus blush-on in ke dalam ziplock bag supaya tidak ketumpahan sesuatu. Kalau saya sih memang selalu menyimpan setiap makeup dan toilettry ke dalam ziplock bag yang berbeda untuk mengurangi risiko kebocoran saat bepergian.
All of these lovely blusher can be bought at Luxola anddd..... If you use the Voucher Code
BLX-CROCHET
you'll get a 15% discount off your first order at Luxola.co.id. This voucher code is valid till September 30th and is not applicable on non-discountable brands found in their
FAQ
.
Looking for to try more blushers?? Don't worry they have a lot more blusher collection over
there
P.S: Did you know that you can find out more about makeup on Luxola's e-magazine? Yes Luxola has and e-magazine called
LX Edit
Semua blush-on cantik di atas bisa kamu dapatkan di Luxola.co.id. Dann....... Kalau kamu menggunakan kode voucher
BLX-CROCHET
kamu akan mendapatkan diskon 15% pada pembeliat pertama di Luxola.co.id. Kode voucher ini berlaku s.d 30 September dan hanya untuk produk yang tidak didiskon sebelumnya ya. Bisa baca lebih jelas ketentuannya di
Luxola FAQ
.
Selain Blush-on di atas di Luxola juga ada banyak koleksi blush-on lainnya kok! Bisa mampir
kesini
.
P.S: Udah tau belum kalau Luxola punya e-magazine dan di dalamnya ada banyak artikel yang membahas tentang kecantikan. Nama majalahnya LX Edit...
Yukk cuss....
Add me on your list ^^