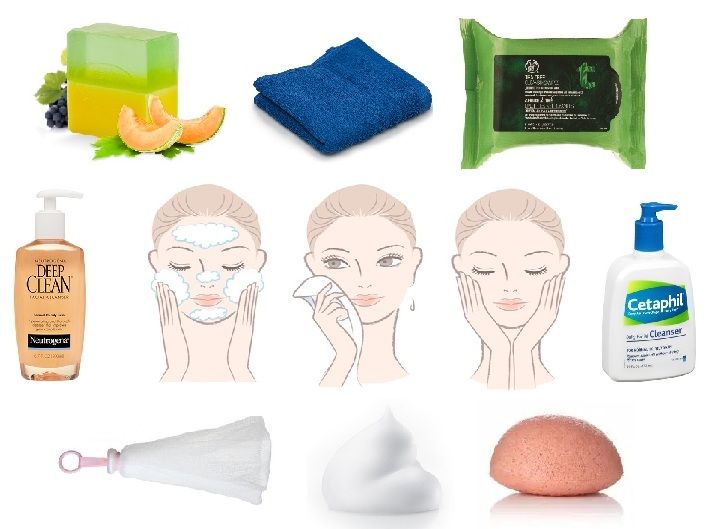 Mencuci muka sepertinya merupakan ritual yang cukup simpel bukan? Ternyata banyak juga loh kesalahan yang sering saya lakukan dalam kegiatan "simpel" ini. Apa saja kesalahannya dan akibatnya pada kulit? Yukk baca terus...
Face washing seems like a simple ritual right? Well not exactly. It turns out that I tend to do a few mistakes in doing this "simple" ritual. What kind of mistakes and how it affects my skin? Keep on reading...
1. Berlebihan (Overdoing It)


Saya kira semakin sering mencuci muka maka kulit saya akan selalu bersih dan terhindar dari minyak berlebih, kuman, bakteri dan lain-lain yang menyebabkan jerawat, ternyata terlalu sering mencuci muka justru akan membuat kulit iritasi dan kering yang ironisnya justru malah menyebabkan produksi sebum yang berlebih dan..... You guessed it.. Menyebabkan JERAWAT!!! Dua kali sehari pada pagi dan malam hari sudah cukup kok.
I use to think that if you wash your face as often as possible my skin will always be clean and free from sebum, germs, bactery and other stuff that causes acne. It turns out that if you wash your face too much it'll irritate and make your skin dry which ironically lead to an overproduction of sebum and... You guessed it right... Leads to ACNE!! Twice a day in day and night is enough.
2. Tidak mencuci tangan sebelumnya (Not washing hands first)


Tangan kita setiap hari menyentuh berbagai macam benda yang tentunya akan mengumpulkan macam-macam kotoran, kuman dan bakteri. Mencuci wajah dengan tangan yang kotor justru akan memindahkan kotoran dan kuman tersebut dari tangan ke wajah. Ini juga cukup sering saya lakukan he he he saya pikir bisa sekalian aja cuci tangan dan wajah sekalian dengan sabun pembersih wajah. Kedengarannya jorok sih tapi saya tahu kalian pasti setidaknya pernah melakukan hal ini bukan? Jadi ingat, cuci tangan dulu sebelum cuci muka ya.
Our hands touch a lot of things that'll accumulate dirt, germs and bacteria. Washing you face with a dirty hands will transfer those dirts from you hands to your face. I admit that I do this mistakes a lot. I use to think that I can wash both my hands and my face at the same time by using facial cleanser. Yeah it's gross I know but you probably have done it once or twice right?? So remember, wash your hands first before washing your face.
3. Tidak membersihkan makeup sebelum mencuci muka (Not removing makeup before washing)


Tujuan dari mencuci muka adalah supaya pori-pori bersih. Nah ternyata kalau saya tidak membersihkan makeup terlebih dahulu sebelum mencuci muka, makeup itu justru menjadi penghalang karena pori-pori kulit sudah terisi dengan makeup itu. Jadi meskipun malas dan sudah capek tetap harus membersihkan dulu ya makeupnya dengan cleansing wipes, cleansing milk, cleansing oil atau produk pembersih makeup lainnya sebelum mencuci muka.
The goals of face washing is to cleanse pores. By not removing makeup first it defeats the purpose of washing my face because my pores are already filled up by those makeup. So even if you're sleepy or lazy you have to cleanse your makeup with cleansing wipes, cleansing milk, cleansing oil or any makeup remover before washing your face.
4. Menggosok dengan handuk (Rubbing with towel)

Mengeringkan wajah dengan cara menggosok justru akan mengiritasi kulit dan memicu keriput!! Cara terbaik mengeringkan wajah adalah dengan cara ditepuk perlahan-lahan. Ingat ini wajah bukan samsak tinju jadi tepuknya santai aja.
Rubbing your face with towel will cause irritation and wrinkles!! The best way is by patting it dry slowly. Remember it's a face not a boxing tug so it's delicate.
5. Menggunakan handuk yang sama dengan handuk badan (Use the same towel with your body towel)
Handuk badan mengkoleksi kotoran dan kuman yang lebih banyak. Kulit wajah itu lebih sensitif dibanding kulit tubuh dan jika kita menggunakan handuk yang sama maka kotoran dari handuk tubuh justru akan pindah ke wajah. Untuk menghindari hal ini saya biasanya menggunakan handuk wajah yang terpisah atau menggunakan tissue wajah.
Body towel collects more dirts and germs. Since the skin on our face is more sensitive than our body, if we use the same towel those dirts will transfer from the towel to our face. To avoid that I usually use a different face towel or a facial tissue.
6. Tidak membilas dengan baik (Not rinsing well enough)
Terkadang saya sudah capek sepulang kerja dan mencuci muka cepat-cepat lalu membilas wajah seadanya. Sisa-sisa sabun wajah terkadang masih menempel di daerah rahang, hair line dan hidung dapat menyumbat pori-pori dan menimbulkan jerawat.
Sometimes when I'm too tired after going back from work I usually cleanse my face swiftly and didn't rinse thoroughly. The leftover build-up from the face cleanser can clog pores and causes acne.
7. Mengunci Kelembaban (Lock in Moisture)
Setelah membersihkan wajah kadang saya tidak langsung menggunakan pelembab tapi malah melakukan ini dan itu dulu. Ternyata hal ini justru mempersulit bahan aktif dari pelembab untuk menyerap ke dalam kulit dan justru akan membuat kulit terasa berminyak dan lengket.
After I wash my face sometimes I don't use moisturizer right away ada do some otfer stuff first. By doing this it will make it harder for the active ingredients to sink into skin and can cause skin to feel greasy or tacky.
8. Terlalu cepat membilas (Rinsing too soon)
Karena rasanya sudah cukup bersih biasanya begitu saya mengusapkan pembersih wajah langsung saya bilas. Ternyata kebanyakan produk pembersih wajah butuh waktu untuk bekerja terutama produk pembersih wajah untuk jerawat. Sebaiknya setelah menggunakan sabun pembersih wajah diamkan sekitar 1 menit sebelum dibilas. Sambil menunggu saya biasanya sikat gigi dulu.
Because I thought it was clean enough I usually rinse right after I apply face cleanser. It turns out that most products need time to work especially for products that is design to fight acne. It's better to leave the lather for a minute before rinsing. I usually brush my teeth while waiting.
Add me on your list ^^