Olaa....
As you may have already known before I'm currently in love with The Bath Box Products and reviewed some of it on my Instagram so now I'm gonna make another review on their Lotion Bar. They have two types of Lotion Bar, the first one is "Pure" which is non scented and "Lilac" which is scented.


Sepertinya udah banyak yang tahu #geer kalau saya lagi suka banget dengan produknya The Bath Box dan sudah mereview beberapa produknya di Instagram dan sekarang saya mau review satu lagi produknya nih yaitu Lilac Lotion Bar. Ada dua jenis Lotion Bar yang dimiliki oleh The Bath Box yaitu varian "Pure" yang tidak memiliki wewangian dan "Lilac" yang memiliki aroma Lilac.
Description:
Super natural lotion, preservatives free, rich in moisturized butters and oils to keep your skin well hydrated. It comes with a cute solid flower bar form and lightweight, not greasy at all and great for travelling.


Lotion yang sangat alami, bebas pengawet, kaya akan pelembab dan oil yang menjaga kulit tetap terhidrasi. Dikemas dalam bentuk bunga yang cantik, terasa ringan, tidak berminyak dan cocok untuk bepergian.
Ingredients (Lilac):
Beeswax, Cocoa Butter, Virgin Coconut Oil, Apricot Kernel Oil, Shea Butter, Fragrance, Vitamin E.
Packaging:
It comes in a round tin jar which is quite lovely. I thought it was quite small at first and wonder if it won't last very long. Since it's a solid lotion I don't have to deal with spillage issue and it didn't take a lot of space either. Plus after the lotion bar is finished I can use the jar to keep small trinkets.


Saya suka dengan kemasan aluminium yang simpel dan pada awalnya saya kira karena ukurannya yang kecil si Lotion Bar ini gak bakalan bertahan lama tapi cukup awet juga loh. Selain itu karena bentuknya solid saya juga tidak perlu khawatir kalau bakalan bocor atau apa. Bentuknya pun juga ramping dan tidak makan tempat dan kalau lotion-nya sudah habis tempatnya bisa dipakai lagi buat nyimpen printilan.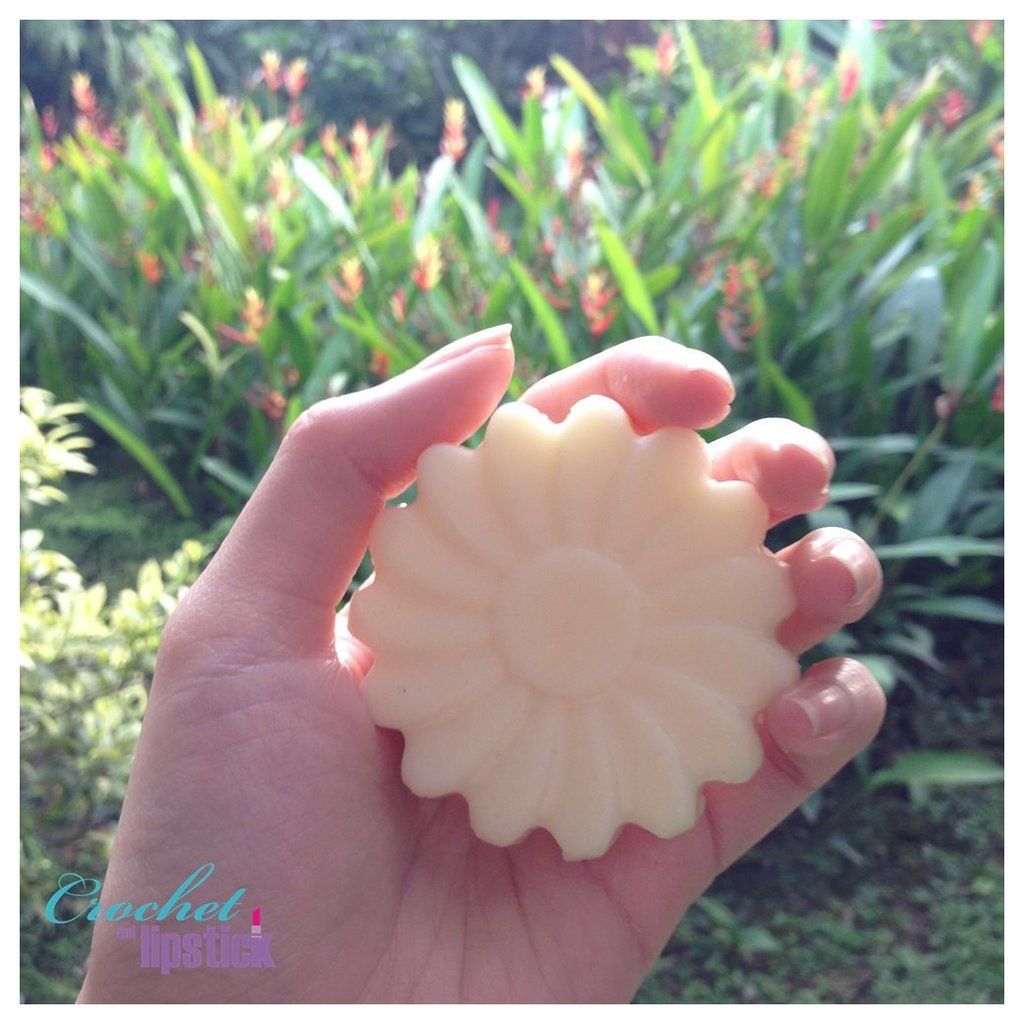 The Lotion Bar:
The lotion bar looks really cute and it was quite hard to get it out of the jar because it was "glued" to the can. Well not really glued I guess because it was hot so the lotion melts a bit and therefore it kinda stick to the jar. To prevent that issue I usually keep it upside down so that the top lid is the on in the bottom.


Bentuk lotion bar-nya cute banget dan pada awalnya agak susah dikeluarin dari kemasan karena dia lengket di dalamnya. an karena cuaca agak panas kali ya jadi agak meleleh sedikit dan malah lengket. Supaya tidak repot akhirnya saya menyimpan si lotion bar ini dalam posisi kemasan terbalik,
How to Use:
I get a few question on my Instagram reader on how to use it because Solid Lotion isn't a common thing. Well basically you take the Lotion Bar and rub it on your desired area and you can feel your body heat slightly melt the Lotion Bar. After that I usually do a little massage until the lotion absorbs.


Ada beberapa reader saya di Instagram yang menanyakan cara menggunakan lotion bar ini karena bentuknya yang solid dan memang masih jarang lotion yang berbentuk seperti ini di Indonesia. Caranya cukup simpel, cukup ambil lotion bar dan diusap di area yang diinginkan, nanti terasa deh suhu tubuh kita akan sedikit melelehkan lotion ini dan kemudian diblend ke tubuh sambil dipijat.
My Thoughts:
This lotion is highly moisturizing so I recommend you use it at night because even though it's not sticky when it's absorbed it will feel slightly sticky at first. Unless you have a very dry skin then I guess it might be okay to use it during the day. If you're in a hurry then you might not want to use it because using this Lotion Bar took time and therefore it's better to use it when you're relaxing. My favorite to use it is before bed, I love the scent and it prepares my body for a good night sleep. Oh and about the size?? Even though it was only 30gr this Lotion Bar last for a while!! I guess because it's solid then you won't need a lot, just teensy weeensy in each use.


Lotion Bar ini amat sangat melembabkan dan saya sarankan untuk dipakai pada malam hari karena meskipun lotion ini tidak begitu lengket saat sudah menyerap tapi pada awal penggunaan dia akan terasa sedikit lengket. Kecuali kalau jenis kulit kamu memang tergolong kering mungkin akan tidak bermasalah menggunakan produk ini di pagi/siang hari. Kalau kamu lagi buru-buru mungkin juga tidak akan suka dengan produk ini karena butuh waktu untuk menyerap dengan baik makanya saya lebih menyarankan untuk digunakan pada malam hari saat lebih santai. Waktu favorit saya untuk menggunakan lotion bar ini adalah pada malam hari sebelum tidur, saya suka dengan wanginya yang lembut sebagai pengantar tidur. Oh ya meskipun ukurannya kecil cuma 30gr tapi lotion ini awet banget lohh!!
- highly moisturizing | sangat melembabkan
- cute packaging | packagingnya cakep
- cute shape #LOL | bentuknya unik
- no preservatives | tanpa pengawet
- a bar goes a long way | satu bar habisnya lama
- slightly stick at first | awalnya agak lengket
- the lotion bar will sometimes "glued" to the can so it's hard to take it out | lotion-nya terkadang suka lengket di kemasannya
Add me on your list ^^
or maybe visit my Circle Lens Shop