Description:
A mild soap for gentle cleansing. Enriched with natural ingredients that effectively soften and whiten the skin to a more "even skin tone"
Pureganics comes from the purest form and best quality of organics produce. It is a skincare line created by the same technology behind Kojie.san that is all natural with no preservatives.
Get the benefits of Papaya for your skin. It has high amount of vitamin C that helps produce collagen that increases the elasticity of the skin and blocks free radicals that cause premature aging.
Sabun pembersih ringan, diperkaya dengan bahan-bahan alami yang secara efektif dapat meratakan warna kulit.
Pureganics berasal dari bentuk paling murni dan memiliki kualitas terbaik dari produk organik. Merupakan seri perawatan kulit yang dibuat dengan teknologi yang sama yang telah meluncurkan Kojie.san yang menggunakan bahan alami dan tanpa pengawet.
Dapatkan manfaat Papaya untuk kulit anda. Pureganics Papaya memiliki kandungan vitamin C yang tinggi sehingga dapat membantu produksi kolagen agar dapat meningkatkan elastisitas kulit dan menghambat radikal bebas penyebab penuaan dini.
Ingredients:
Sodium Palmitate, Sodium Palm Kernelate, Coconut Oil, Fragrance, Glycerine, Titanium Dioxide, Cocodiethanolamine, Water, Carica Papaya Extract, Dimethyl Phenyl 2-butanol, Tetrasodium Etidronate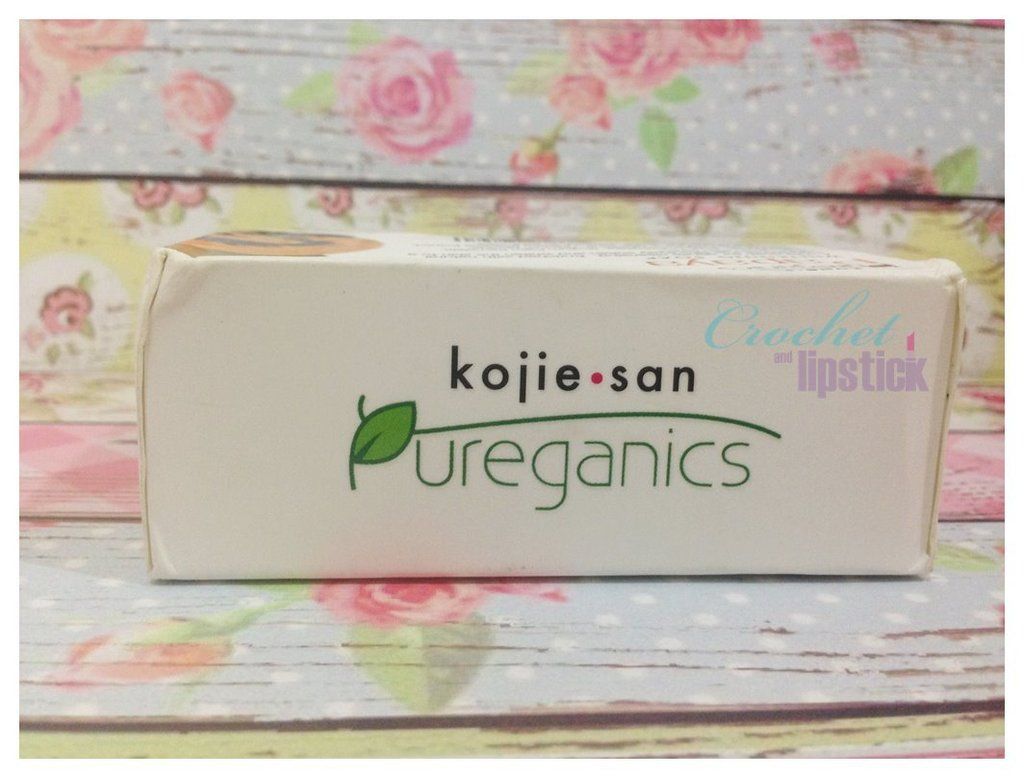 Packaging:
It's a standard packaging but the soap is wrapped inside a plastic seal. I like the simple design of the soap. Beside it's the soap that I want to use right? Not the box.
Bentuk kemasannya cukup simpel tapi sabun didalamnya dibungkus lagi dalam segel plastik. Saya sih cukup suka dengan desainnya yang simpel. Lagian yang dipakai juga si sabun dan bukan kemasannya.
The Soap:
The soap is pretty hard and didn't melts as easy as the kojic acid one although if I keep it in a damp area it will melts faster and the texture turns somewhat soggy. It has a citrus-sy scent to it which I love because I feel fresh every time I take a shower. Like any other Kojie-san Soap I usually let it sit for a few minutes before I rinse. I think because it's supposed to be gentler on skin I don't feel any stinging like Kojie-san Kojic Acid but the exfoliating effect is also not as fast as the Kojic Acid one which is fine for me because I only wanted to even out my skintone (exactly like the product claim). So your looking for a product than can lighten up your skintone then this one might not be what you're looking for, but if you're like me and just want to even out your skintone then the Kojie-san Pureganics Papaya Whitening Soap might suits you better. Ohh lastly and since the effect isn't as fast as the original Kojie-san the Pureganics is gentler on my skin and not as drying as the Original Kojie-san.
Sabunnya cukup keras dibanding Kojie.san Original dan lebih tidak mudah meleleh tapi kalau saya simpan di tempat yang agak basah tekstur sabunnya jadi agak sedikit lembek gitu deh. Ada aroma-aroma seperti jejerukan (ehh?!?) di sabunnya dan saya suka banget karena rasanya lebih seger aja waktu mandi. Seperti penggunaan sabun-sabun Kojie-san yang lainnya, sabun ini saya diamkan beberapa saat sebelum saya bilas. Karena Pureganics memang formulanya lebih lembut di kulit saya tidak merasakan sensasi clekit-clekit seperti waktu memakai sabun kojic acid pada umumnya tapi memang efek eksfoliasinya juga lebih lambat dibanding Kojie.san Original. Tapi justru itu sih yang memang saya cari karena saya tidak menginginkan kulit saya untuk jadi lebih cerah tapi hanya ingin meratakan warna kulit saya (seperti yang diklaim produknya). Jadi kalau kamu mau produk yang dapat membantu meratakan warna kulit maka Pureganics Papaya Whitening Soap akan lebih cocok di kamu, tapi kalau kamu maunya produk yang dapat meningkatkan skintone kamu lebih baik menggunakan Kojie-san Kojic Acid Soap. Oh yang terakhir karena efek mencerahkan dari Pureganics ini tidak secepat Kojie-san Original, dia lebih lembut di kulit dan tidak membuat kulit sekering saat menggunakan Kojie-san Original.
Pros:
- nice scent | wanginya enak
- helps even out skintone | membantu meratakan skintone
- not as drying as the original Kojie-san | tidak terlalu membuat kulit kering
Cons:
None but it's not suitable for people who wants to lighten their skintone | Tidak ada tapi produk ini kurang cocok untuk yang menginginkan warna kulit yang setingkat lebih cerah
Where to Buy?
Guardian Pharmacy
Add me on your list ^^
or maybe visit my Circle Lens Shop