Hi everyone!!
It's another cushion review from me and it's from the A'pieu Air Fit Cushion Doraemon Edition!!! The one that I bought is the special set which has a cushion and another refill inside. Why I bought it you say?? I just can't resist the temptation!! I mean it's Doraemon!! I grew up with the little guy. Ohh and speaking of Doraemon there's a Doraemon Secret Gadget Expo at Grand City Surabaya now and I can't wait to go there at Christmas Holiday. Sigh.... Still another two weeks though but fret not!! It'll pass in a jiffy..!!
Okay enough rambling now and let's go to the review now shall we?


Kali ini saya mau review produk cushion lagi nih, namanya A'pieu Air Fit Cushion dan yang ini adalah edisi spesial Doraemon!! Yang saya beli adalah setnya, di dalamnya selain cushion juga ada refill cushionnya. Kenapa saya beli?? Soalnya saya tidak tahan sama kelucuan si Doraemon!! Dari jaman saya kecil dulu di tempat saya tinggal agak susah untuk mendapatkan sinyal RCTI dan kalau hari minggu ke rumah tetangga dulu buat nonton Doraemon rame-rame. #LOL ketahuan banget ya umur saya? He he he... Selain itu sekarang di Grand City Surabaya lagi ada Doraemon Secret Gadget Expo dan saya peengggeennn banget kesana!! Moga-moga pas liburan Natal nanti saya sempat melipir kesana. Masih dua mingguan lagi sih tapi sabar dulu lah udah menjelang akhir tahun nanti gak kerasa juga.
Ahhh... kebanyakan ngalor ngidul ya saya kapan coba reviewnya?? Yukkk menuju TKP...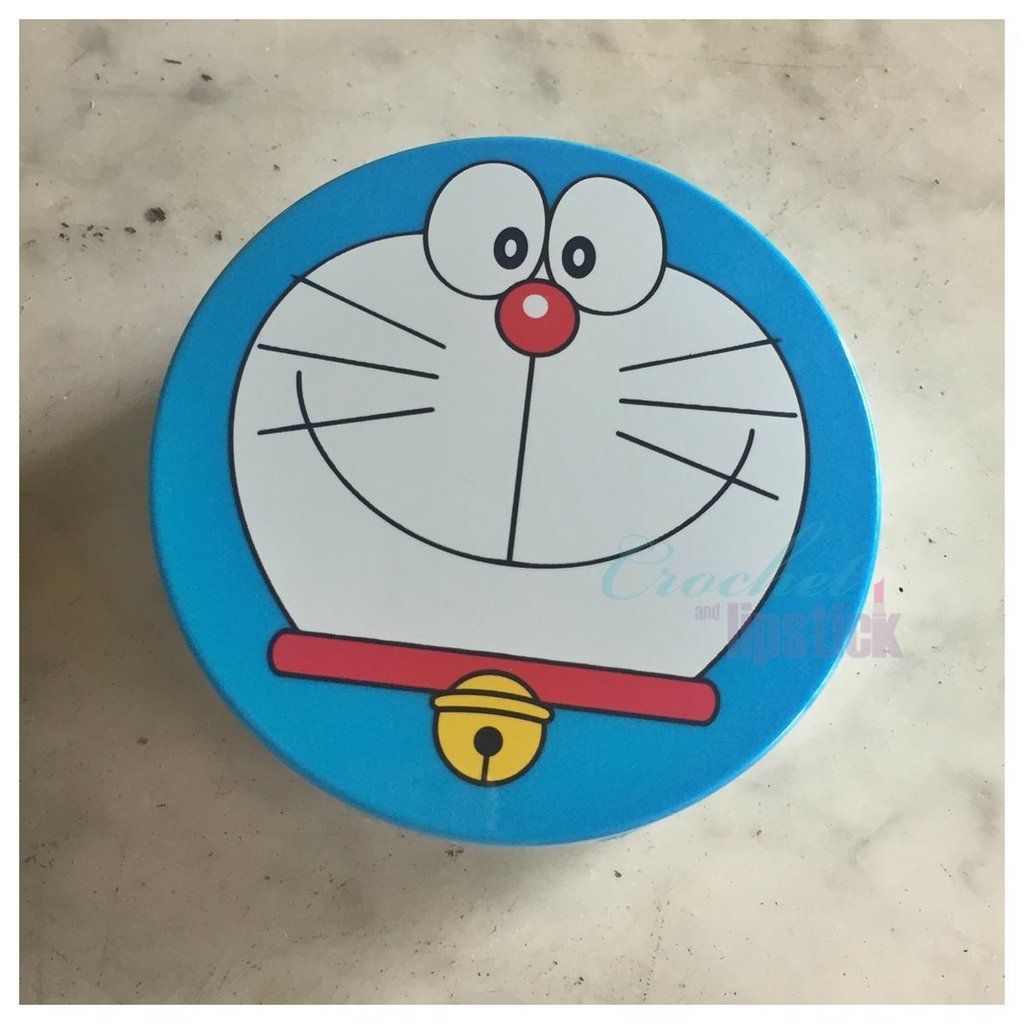 Features:
Contain 32% mineral water instead of water for clean and moisture skin and lightweight texture..
Contain Aloe Vera and Tea Tree so it's suitable for sensitive skin.
Patent ingredient of Avocado Peptide give healthy elastic skin.
Rolling gel system and Sliding Powder offers a more even application without clumpiness.
Combination of Air-light Powder and Airy Cover Powder gives offers buildable coverage that still feels soft and silky on the skin.
SPF 50+ PA+++


Mengandung 32% air mineral untuk tekstur yang ringan dan kulit yang lembab.
Mengandung Aloe Vera dan Tea Tree sehingga cocok untuk kulit sensitif.
Kandungan Avocado Peptide yang telah dipatenkan dapat meningkatkan elastisitas kulit.
Rolling Gel System dan Sliding Powder memberikan aplikasi yang lebih merata tanpa menggumpal.
Kombinasi dari Air Light Powder dan Airy Cover Powder memberikan coverage yang buildable namun tetap terasa lembut dan halus di kulit.
SPF 50+ PA+++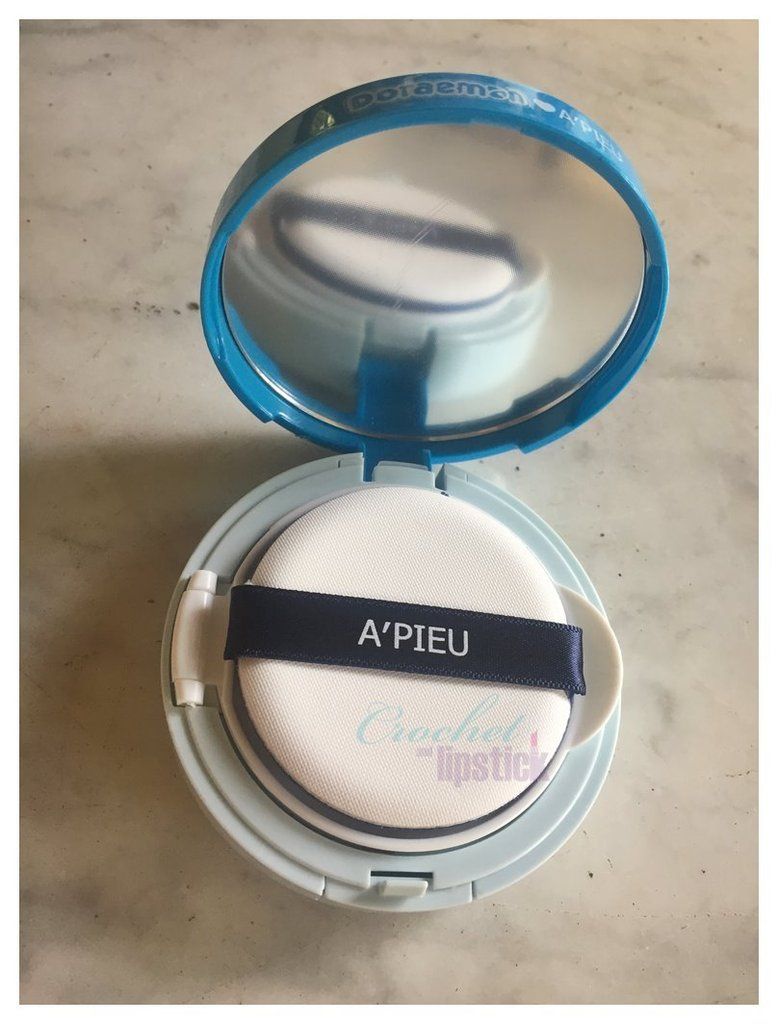 How to Use:
After skincare use the air puff provided to apply the BB cream onto the skin.


Setelah menggunakan produk perawatan kulit gunakan air puff untuk mengaplikasikan BB cream pada kulit.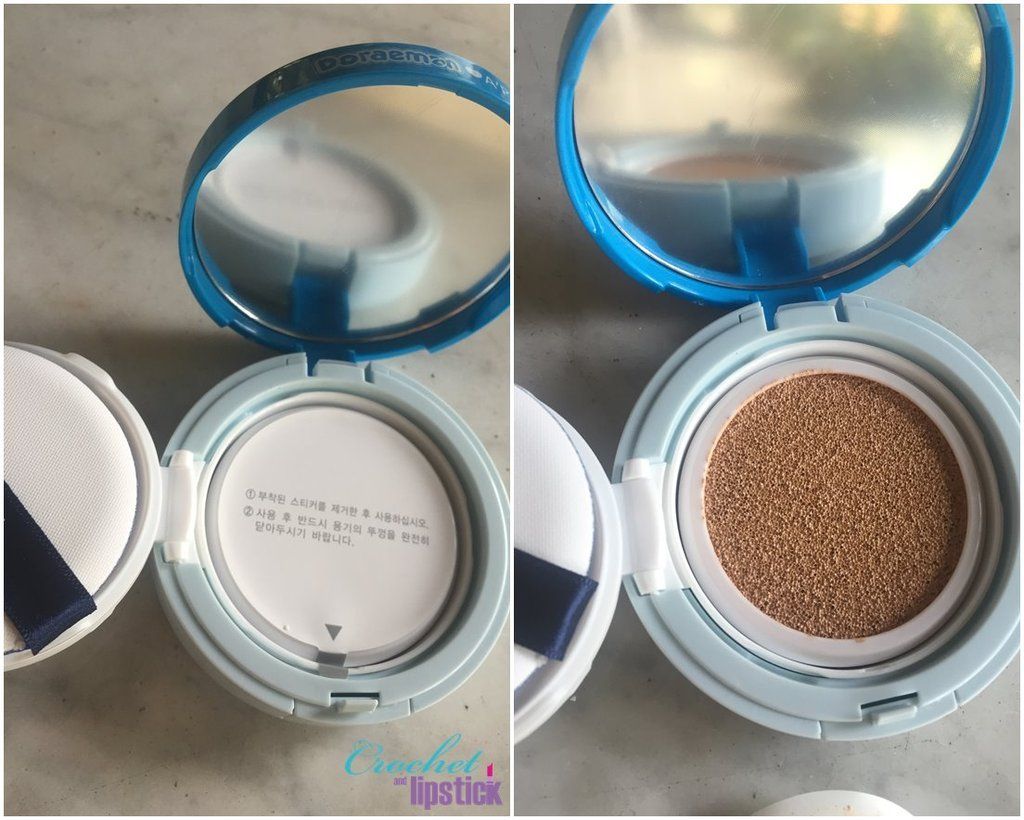 Packaging:
Nuff said it's like the cutest thing.. like.. everrr!!!


Gak perlu banyak penjelasan lagi deh... Kemasannya lucu pake bangett!!
Puff:
I like this puff better than the Secret Kiss, the softness is pretty much the same but the A'pieu one is slightly thicker.


Saya lebih suka puffnya A'pieu dibanding Secret Kiss, untuk kelembutannya memang terasa cukup sama tapi puffnya A'pieu lebih tebal.
Color:
The one that I bought is shade no. 21 which is quite neutral I think. It's not really yellow nor pink but I think it's too light for my skintone but thankfully it doesn't look weird on me. I think it's because I get slightly tan since I move to Jakarta. The finishing on this cushion is slightly dewy but not as dewy as the Secret Kiss.


Saya belinya shade no. 21 dan menurut saya warnanya cukup netral ya, tidak terlalu kuning maupun pink cuman ternyata shade yang ini agak terlalu terang di saya. Biasanya sih saya pakai no. 21 cuman sejak pindah ke Jakarta agak panas jadinya kulit saya sedikit menggelap kali ya?? Untuk finishnya cushion ini agak dewy tapi masih lebih kalem penampakannya dibanding Secret Kiss.
Coverage:
The coverage on this cushion is light to medium and it's buildable so I just reapply it in a needed area and Voila!! It covers my blemish marks and redness well and gives and even skintone look. Oh and it felt slightly cold upon application or is it just me??


Coverage cushion ini light ke medium dan buildable jadi untuk area yang butuh coverage lebih tinggal diapply aja lagi dan Voila!! Cushion ini cukup menutupi daerah kemerahan dan bekas jerawat serta membuat warna kulit saya tampak lebih rata. Ohh dan saat diaplikasikan ke wajah itu ada efek-efek ademnya gitu, apa cuman saya ya??
The Cushion:
I have an oily-combi/acne-prone/sensitive skin and work all day in an air conditioned room so it does tends to get dries sometimes. After about 4 hours I usually need to blot on my T-zone but didn't need to touch up and the most important thing is I don't experience any breakout! I also wish there's more products inside because it runs out quite fast.... (TAT) But... Not only this special set contains extra refill it also has extra puff inside!! Nice right?? Overall aside from the fact that it runs out reall fast I think it's a really good product and while making this review I suddenly wants their Air Fit Nude Foundation... GGaahhhhh!!!?!?!?


Jenis kulit saya itu oily-combi/acne-prone/sensitif dan setiap hari saya bekerja di ruangan ber-AC jadi terkadang kulit saya juga kering. Saat menggunakan cushion ini daerah T-zone saya baru mulai berminyak setelah 4 jam dan cukup saya blot saja dengan oil paper tanpa perlu touch up lagi karena produknya memang masih nempel dan yang paling penting lagi adalah saya tidak breakout sama sekali saat menggunakan produk ini!! Cuman memang karena produknya bertipe cushion jadinya cepat habis (TAT). Tapi.... Set yang ini selain di dalamnya ada extra refill juga ada extra puffnya juga loh!! Overall saya rasa Cushion ini cukup worth it lah untuk dicoba cuman ya itu, isinya cepat habis. Apa mendingan saya nyobain yang Air Fit Nude Foundation ya?? #Galau
Pros:
- cutest packaging ever!!
- light to medium coverage
- buildable
- no breakout
- feels light on skin
- cooling sensation
Cons:
NONE!!
Where to Buy?
How Much?
IDR 170.000 - 200.000 depends on the shop
Add me on your list ^^
or maybe visit my Circle Lens Shop