Hi there!!
Today I'm gonna share about my experience with The Bath Box Clay-opatra Face Mask. Cute name right?? They made a twist to the word Cleopatra because this mask has Clay in it. I bought the mask a few months back and since I've used all of it I figure I can make a decent review about it.
Hari ini saya mau share pengalaman saya menggunakan The Bath Box Clay-opatra Face Mask. Namanya lucu yah?? Bukannya Cleopatra tapi Clay-opatra karena ada kandungan Clay di dalamnya. Masker ini saya beli beberapa bulan lalu dan karena sudah saya pakai sampai habis jadi sudah waktunya nih bikin reviewnya.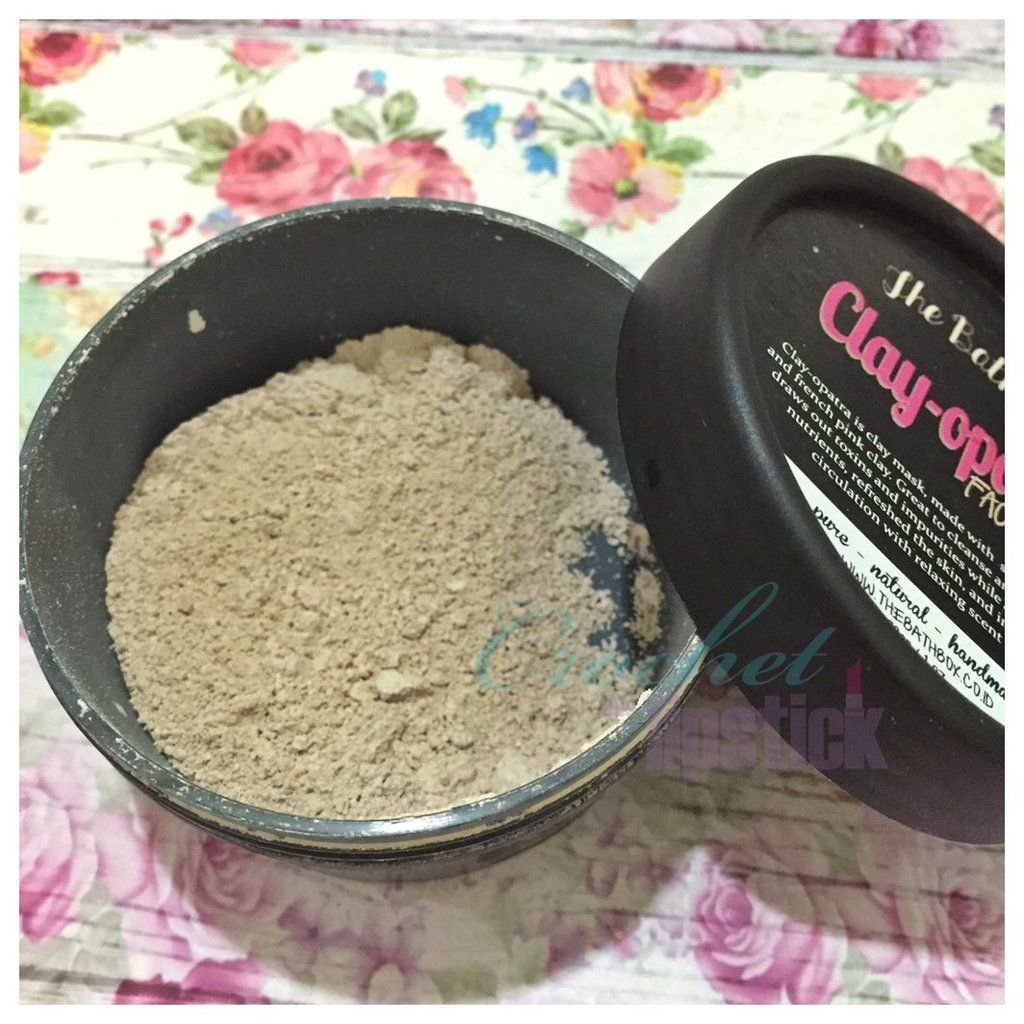 Clay-opatra is clay mask, made with seaweed, blueberry and french pink clay. Great to cleanse and detoxify the skin, draws out toxins and impurities while adding beneficial nutrients, refreshed the skin and increased blood circulation with relaxing scent of rose.
Clay-opatra adalah masker clay yang diperkaya dengan seaweed, blueberry dan french pink clay. Sangat bagus untuk membersihkan dan mendetoks kulit, mengeluarkan racun dan kotoran serta memberikan nutrisi pada kulit, menyegarkan kulit dan memperlancar sirkulasi darah dengan aroma mawar yang menenangkan.
Kaolin Clay, Illite Clay, Ascophyllum Nodosum, Vaccinium Angustifolium Fruit, Rosa Damascena Oil, Santalum Album Oil
Blend 1 tsp mask to 1,5 - 2 tsp water, apply it on your face, leave it for 8 minutes (until half dry), rub your face gently with circular motion and rinse. Apply toner and moisturizer if desired
Campur 1 sdt masker dengan 1,5 - 2 sdt air, oleskan pada wajah, diamkan selama 8 menit (sampai setengah kering), pijat wajah secara perlahan dengan gerakan melingkar dan bilas. Gunakan toner dan pelembab bila perlu.
The mask is pink brown in color and it's really powdery so I'm glad that there's a separator between the lid and the jar. The first time I opended it I smell the roses right away and it's really relaxing although there are other who don't smell the roses but only clay. Maybe mine's got more Rose Oil in it? IDK...
I use my Secret Key Hyaluron Soft Micro-Peel Toner to mix the mask into a brownish paste and then applied it on my using plastic spatula. The mask felt nice on my skin and thankfully I didn't have any reaction to it because my skin is quite sensitive and I forgot to do patch test first. Since it's a Clay Mask it is better to use it until half dry so that the skin can absorbs the nutrients and benefits from the clay. Don't use it until dry because the clay will absorbs moisture from your skin and make your skin dry which will then defeat the purpose of using a face mask in the first place.
I use Clay-opatra about 2-3 times a week and since they use natural ingredients it will expire after 3 months. It kinda drives you to use the mask regularly right?? Anyway after I use this mask my skin feels really soft and supple and it's really good whenever I felt really tired and needed a boost. It makes my skin feels really fresh in the morning and I totally look "awake" and ready for work!!
Maskernya berwarna pink kecoklatan dan sangat berbubuk jadi saya cukup senang karena TBB juga menyertakan pembatas antara masker dan tutup di dalamnya. Saat pertama dibuka wangi mawarnya langsung kemana-mana dan sangat membuat saya merasa rileks. Tapi ternyata setelah saya baca-baca review lainnya ternyata tidak semua batch dari Clay-opatra ini wangi mawar, ada juga yang lebih beraroma Clay dan aneh. Mungkin punya saya sudah lebih banyak Rose Oil-nya kali? Saya kurang tahu juga.
Masker ini saya gunakan bersama dengan Secret Key Hyaluron Soft Micro-Peel Toner untuk adonannya dan saya oleskan ke wajah menggunakan spatula. Saat dioleskan terasa enaakkk gitu di kulit dan untungnya saya tidak mengalami reaksi alergi apapun terhadap masker ini karena saking "terbius" oleh aromanya dan pengen cepat-cepat dipakai saya sampai lupa patch test untuk alergi. Karena masker ini merupakan masker clay jadi sebaiknya digunakan sampai setengah kering saja dan jangan sampai kering. Kalau sampai maskernya kering, kulit tidak dapat menyerap nutrisi dari maskernya dan justru si clay ini akan membuat kulit jadi kering. Percuma donk jadinya pake masker...
Clay-opatra ini saya gunakan 2-3 kali seminggu dan karena bahan-bahan yang digunakan itu alami jadi masker ini akan kadaluwarsa setelah 3 bulan. Karena cepat kadaluwarsa jadinya saya makin terdorong untuk rajin memakainya supaya tidak rugi he he he. Setelah menggunakan masker ini kulit saya terasa halus dan kenyal dan menurut saya paling cocok digunakan saat saya merasa kulit saya (dan saya) sedang lelah dan butuh nutrisi ekstra. Jadi saat setelah digunakan pada malam hari, besoknya kulit saya akan terasa lebih segar dan saya juga terlihat lebih fresh dah siap untuk bekerja di pagi hari.
Where to Buy?
How Much?
IDR 84,500 (30 gr)
Allergy Warning:
People with skin allergies should test the products on a small spot of skin first and stop using if irritation occurs. Even if this is 100% natural with no chemical, there are some people also allergic to natural ingredients.
Peringatan Alergi:
Bagi yang memiliki alergi wajib melakukan tes terhadap produk ini pada area kecil pada kulit dan hentikan penggunaan bila muncul iritasi. Meskipun produk ini adalah 100% alami tanpa bahan kimia, namun ada juga yang memiliki alergi terhadap kandungan bahan-bahan alami.
Add me on your list ^^
or maybe visit my Circle Lens Shop