Hi!!
I want to do a review about an awesome hair products that I've been using for years although I'm currently on a switch period right now. I change my shampoo and conditioner to other brand every now and then because otherwise a certain brand just won't work on me anymore. The first time I found out about this shampoo is from a Japanese Movie called "Air Doll" (Googled it up if you're curious) and in it the main character use the Shiseido Tsubaki to wash his "girlfriend" hair. I got curious so I lookup for an online local seller that sells it and it got me to Nihonmart.
I rarely bought pricier products for my hair but since it's Shiseido I figure that I have to try it for once. I mean I sometimes splurge for a good skincare products but why not do it for haircare right? My first purchase is the full 500ml set but this time I bought the smaller size (220ml) because I was low on cash he he he....
The key ingredients of the Shiseido Tsubaki is of course "Tsubaki" or Camellia Japonica oil. It is rich in oleic and linoleic acid and it's perfect for hair nourishment.

Saya mau mereview produk oke yang sudah saya gunakan bertahun-tahun. Biasanya kalau menggunakan Shampoo yang sama secara terus-menerus rambut saya akan tidak cocok dengan produk tersebut, makanya saya selalu switch ke produk lain setiap si Shiseido ini habis dan sesudah switch saya lalu kembali lagi ke Shiseido. Pertama kali saya tahu tentang shampoo ini dari sebuah film Jepang yang berjudul "Air Doll" (Bisa Google kalau penasaran) dan di film itu karakter utamanya menggunakan Shiseido Tsubaki untuk "pacarnya". Akhirnya saya penasaran dan nyari-nyari online shop lokal yang menjual produk ini dan tersandunglah saya ke Nihonmart.
Saya jarang membeli produk yang menurut saya agak "mahal" untuk perawatan rambut, tapi berhubung ini Shiseido rasanya sih cukup worth it untuk dicoba. Kalau saya rela mengeluarkan uang untuk perawatan kulit yang baik kenapa tidak untuk perawatan rambut?? Waktu pertama kali mencoba si Shampoo dan Condi ini saya langsung beli yang ukuran 500ml tapi berhubung kali ini keuangan lagi terbatas saya belinya yang ukuran 220ml aja.
Bahan utama dari Shiseido Tsubaki ini sesuai namanya tentu saja minyak bunga "Tsubaki" atau Camellia Japonica. Bunga ini kaya akan oleic dan linoleic acid yang sanget bermanfaat untuk kesehatan rambut.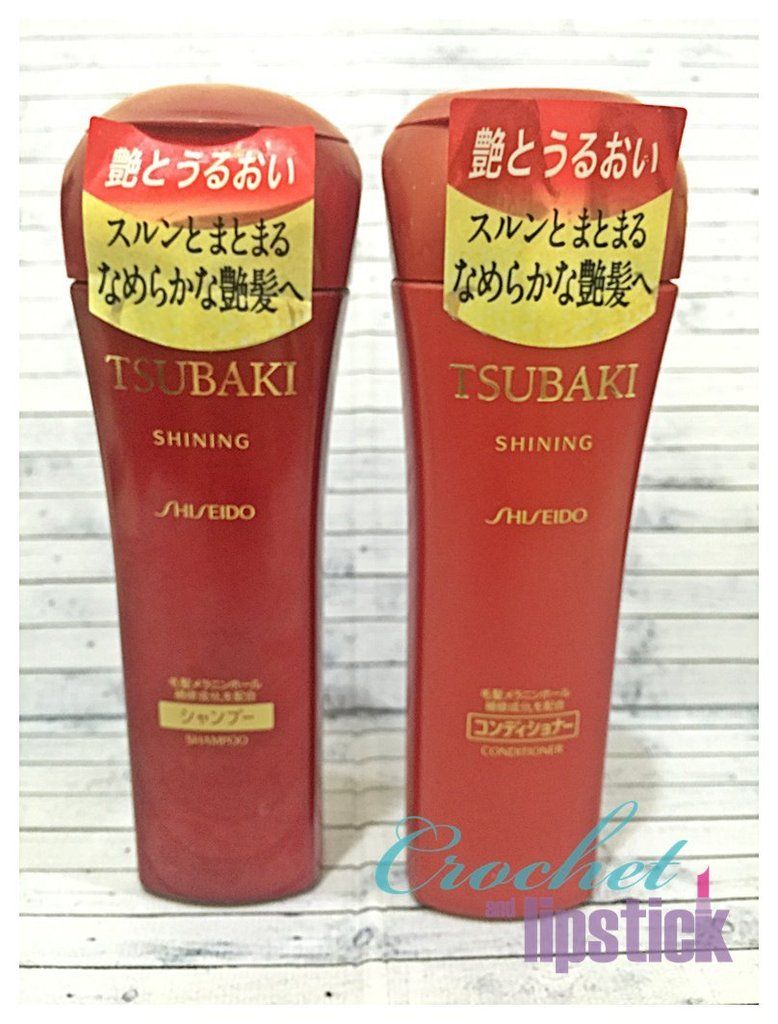 What it Claims:
- Enriched with Shiseido special ingredient Tsubaki oil EX
- Enhance elasticity, repair hair with shines and smoothness
- Floral scent refreshes your senses
- Lather up easily with rich bubbles

- Diperkaya dengan bahan spesial Tsubaki oil EX
- Meningkatkan elastisitas, memperbaiki kilau dan kelembutan rambut
- Wangi bunga yang menenangkan
- Mudah dibilas dengan busa yang melimpah
Packaging:
Both shampoo and conditioner has similar design and you won't notice it directly. I sometimes have to read the bottle first before I use it but later I found out that they have different top. The shampoo top is more rounded and the conditioner top is flat so that you can put the conditioner bottle upside down when it's about too run out. Even though they're made from plastic it doesn't look cheap at all.

Keduanya memiliki desain yang serupa dan pada awalnya saya harus membaca labelnya dulu sebelum digunakan. Tapi ternyat ada perbedaannya loh, yang Shampoo tutupnya lebih berbentuk bulat dan yang Conditioner tutupnya lebih flat. Mungkin karena tekstur Conditioner-nya lebih kental jadi tutupnya dibuat flat supaya bisa diletakkan terbalik. Kedua kemasan terbuat dari plastik namun tidak terlihat murah lohh...
Texture and Scent
Both shampoo and conditioner has a nice floral scent, I guess it's the scent of Tsubaki?? The Shampoo is milky colored and has runny consistency while the conditioner has similar color but creamier consistency.

Shampoo dan Condiotionernya memiliki wangi bunga yang menenangkan, mungkin itu wangi bunga Tsubaki?? Shampoonya berwarna putih susu dan teksturnya agak cair dan Conditionernya memiliki warna serupa hanya teksturnya lebih kental dan creamy.
The Shampoo
I usually use about a dime size at first and if I still feel that my hair is still dirty I rinse and lather again. The foam aren't that much but enough since I don't think too much foam in a shampoo is good anyway. Back when I don't change my hair color often shampooing with Shiseido is already quite moisturizing for my hair but now it's not enough. BUt I do still think that this Shampoo performs better and didn't dry my hair as much as other shampoo.

Biasanya saya cukup menggunakan 1 pump atau sebesar koin dan kalau dirasa masih kotor saya bilas dan keramas lagi. Busanya diklaim banyak tapi menurut saya tidak sebanyak produk lainnya walaupun cukup lah untuk membersihkan kepala. Lagian terlalu banyak busa juga katanya tidak baik juga untuk kesehatan rambut. Dulu waktu masih jarang gonta-ganti warna rambut Shampoo aja sudah cukup untuk rambut saya tapi karena sekarang lebih sering ganti warna rambut rasanya masih kurang lembab kalau tanpa Conditioner. Walaupun begitu Shampoo ini performancenya masih lebih oke dibanding produk lain yang pernah saya coba dan tidak membuat rambut saya kering.
The Conditioner
The conditioner works really well in detangling my hair in the shower and if your hair is quite dry like mine then you'll love the soft silky feels this conditioner gave to your hair. BUt if your hair is normal then I suggest you use the conditioner sparingly.
Conditionernya bekerja dengan sangat baik untuk meluruskan rambut saya yang kusut saat Shampooan dan bagi yang memiliki rambut kering saya rasa akan suka dengan kelembutan rambutnya setelah menggunakan Conditioner ini. Tapi untuk yang rambutya normal sebaiknya tidak terlalu banyak menggunakan Conditionernya supaya rambutnya tidak lepek.
Pros:
- nice floral scent | wangi bunga lembut
- great for detangling | cocok untuk meluruskan rambut kusut
- silky smooth feeling | rambut halus dan lembut
- moisturize dry hair | melembabkan rambut saya yang kering
Cons:
A little bit on the pricier side | Agak mahal
Where to Buy:
How Much?:
IDR 150,000 for 500ml bottle
IDR 70,000 for 220ml bottle


Note: I think the red one is called Extra Moist now. I haven't bought the new one but when I do I'll make a review again
Add me on your list ^^
or maybe visit my Circle Lens Shop